You Are Essential: 100 Inspirational Reminders of How Much You Matter
Author: Thomas Nelson Gift Books
Published:  April 20, 2021
176 Pages
Reviewed By: Jessica
Dates Read:  June 5-7, 2021
Jessica's Rating: 5 stars     
Book Description:
With 100 uplifting quotes and stories along with vibrant artwork, You Are Essential is for the essential people in your life–including you!–who need a reminder that what they do matters.
We all have essential people in our lives, whether they are friends, family, or someone we are meeting for the first time at the doctor's office or grocery pick-up line. Designed to be given as an encouragement or thank-you to others or as a self-purchase to remind yourself how much the world needs you, You Are Essential includes:
Inspirational quotes

Encouraging stories

Colorful artwork
This timely and timeless book is ideal for:
Classroom and online teachers

Nurses, medical assistants, EMTs, pharmacists, and doctors

First responders and their families

Parents juggling both childcare and a career

Grandparents stepping in to help during turbulent times

Pastors, youth leaders, and Sunday school teachers

Grocery store delivery shoppers and postal service employees

Homeschooling parents and co-op leaders

Factory workers, car mechanics, restaurant personnel

And more!
The perfect way to let someone know you see all that they are doing and that you're grateful, You Are Essential is a beautiful celebration of the human spirit and a reminder that no matter what, we will always need each other.
Jessica's Review:
You Are Essential is a book for everyone as we are ALL essential!  When COVID hit last year many different types of occupations came to the forefront, and some that are usually not considered important/ essential suddenly became VERY important to all of us. I am in one of those professions (I work in a local government office) that is essential but not very appreciated by the public, still even now. It's rare to get a thank you and more common to get yelled at.  I had a rough day at work when I had ordered You Are Essential, so it came at a good time for me. 
You Are Essential is uplifting and gives encouraging quotes, stories and scriptures. It shows how everyone is important with what they do: Sometimes we just need reminding! 
The book itself it pocket sized and is colorful and even has its own personal ribbon bookmark attached to the book.  It would make the perfect gift for those who need these reminders and a great little coffee table book. 
I plan to hold on to this one and read it as I need it.
I received a copy from the publisher via Amazon Prime.
The Gift
Author: Richard Paul Evans
Published: October 9, 2007
Audiobook
Reviewed By: Jessica
Jessica's Rating: 4 stars
Dates Read: December 1-5, 2019
Book Description:
A heartwarming and inspirational Christmas novel in the tradition of The Christmas Box and Finding Noel from New York Times bestselling author Richard Paul Evans. Sure to be a classic, this new tale brings to life the joy of the season and demonstrates the redemptive power of love: there is no hurt so great that love cannot heal it.
Nathan Hurst hated Christmas. For the rest of the world it was a day of joy and celebration; for Nathan it was simply a reminder of the event that destroyed his childhood until a snowstorm, a cancelled flight, and an unexpected meeting with a young mother and her very special son would show him that Christmas is indeed the season of miracles.
From the beloved author of the international bestseller The Christmas Box comes another timeless story of faith, hope, and healing.
Jessica's Review:
The Gift is a sweet story to be read at Christmas.  Nathan Hurst does not celebrate Christmas for very personal reasons.  Then one day his flight is delayed and he meets single mom Addison, her children Colin and Elizabeth and all of their lives are changed forever.
The Gift shows what happens when a very unique ability (with consequences) becomes a news story and life gets out of hand.  This story shows how greedy we can be as humans without regard for others.  On the flip side, this novel also shows how love can and will overcome the greed. 
If only more of us were like Colin, the world would be a better place.  This is a novel that will touch your heart and you may possibly shed a tear or two.  You will definitely feel better emotionally when you finish The Gift.
Purchase Links:
Amazon US  
Amazon UK
[Top]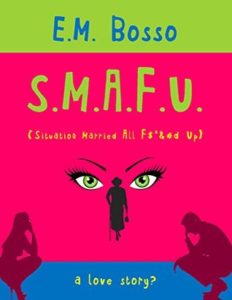 SMAFU: : Situation Married All F$" Up
Author: E.M. Bosso
281Pages in Kindle
Published: April 3, 2016
Dates Read: September 30- October 9, 2016
My Rating: 5 Stars
Book Summary from Amazon:
A sexy and humorous walk through life, as an elderly neighbor notices the impending end of a failing marriage and decides to step in and share her wisdom and life experience. If she can't help save the marriage, perhaps she can at least soften the pain.
Whether you are looking for a feel-good novel to inspire you to explore your dreams; a novel to help you affirm that you are not alone; or something to help you sit down and open up a new line of communication with your significant other, SMAFU will change your life.
My Review:
I was lucky enough to receive a copy of SMAFU to read for review from THE Book Club (TBC) on Facebook. I am thankful for the opportunity as I enjoyed the book!
Steve and Mary have been married for seventeen years and their marriage is in trouble and has been for a long time. They move to a new house and meet Cherisse who changes their lives. Cherisse is 90+ years old and "tells it like it is". She tells stories of her life along with parables to both Steve and Mary. As you learn things about Cherisse's life, maybe a little more than you want to know, she tries to help save Steve and Mary's marriage. Steve is the main character in SMAFU, and most of the book is from his perspective. Therefore, we get to see what marriage can be like from the male perspective, which we don't get much in novels. We see his thoughts and mistakes he makes.
This book has lots of humor (my favorite was when Steve tries to grocery shop!), sarcasm, and it makes you think. I love Cherisse's character! I wish there was someone like her in reality. She can really teach someone based on all her life experiences.
Will Steve and Mary save their marriage or is it destined to end as it was the beginning of the book? You will have to read to find out!
**Thank you again TBC for my copy of SMAFU
[Top]