Author: J.D. Barker
Published: July 10, 2018
416 pages
Reviewed By: Jessica
Dates Read: July 2- 15, 2018
Jessica's Rating: 4.5 stars
Book Description:
In the thrilling sequel to The Fourth Monkey, a new serial killer stalks the streets of Chicago, while Detective Porter delves deeper into the dark past of the Four Monkey Killer.
Detective Porter and the team have been pulled from the hunt for Anson Bishop, the Four Monkey Killer, by the feds. When the body of a young girl is found beneath the frozen waters of Jackson Park Lagoon, she is quickly identified as Ella Reynolds, missing three weeks. But how did she get there? The lagoon froze months earlier. More baffling? She's found wearing the clothes of another girl, missing less than two days. While the detectives of Chicago Metro try to make sense of the quickly developing case, Porter secretly continues his pursuit of 4MK, knowing the best way to find Bishop is to track down his mother. When the captain finds out about Porter's activities, he's suspended, leaving his partners Clair and Nash to continue the search for the new killer alone.
Obsessed with catching Bishop, Porter follows a single grainy photograph from Chicago to the streets of New Orleans and stumbles into a world darker than he could have possibly imagined, where he quickly realizes that the only place more frightening than the mind of a serial killer is the mind of the mother from which he came.
Jessica's Review:
My review of The Fourth Monkey, the first in the series is here.
J.D. Barker is back with The Fifth to Die, sequel to The Fourth Monkey (4MK). This is another brilliant novel in the series.  Be warned in advance:  there is a cliffhanger to this one…. I need the third (and possibly final??? ) book now!   I really like Detective Porter and Bishop is just frightening and now we see where he gets it from: His mother!
I would say you could read The Fifth to Die before 4MK, but I would not recommend it at all!  You would see what's going on as this novel goes into the past some, BUT you would miss so many of the details and you NEED to know 4MK's gruesome background!  You will not understand the brutality or how extreme of a sociopath Bishop is without reading 4MK. 
There is quite the punch of activities that occur in a short amount of time in Fifth. We have multiple POVs and more than one bad guy. The mystery with what is going on with the girls keeps you reading wondering what will happen next.  And thank you J.D. Barker for totally freaking me out by the overdose one character dies of: I am currently taking that medication!! 
Bishop is fast becoming a favorite serial killer of mine and I look forward to see what Barker brings us next in this series. I just hope it isn't too long!
The reason I rated The Fifth to Die 4.5 stars (rounded up to five for Goodreads, Amazon, etc) was that I personally wanted more of Bishop in the novel.  His presence wasn't as high in this one as I wanted.  BUT we do get another frightening serial killer!  J.D. Barker, how do you come up with these characters in your mind?????
Special thanks to the publisher Houghton Mifflin Harcourt and J.D. Barker for my arc copies!
The Fifth to Die is highly recommended!
Giveaway Alert!!!:
**Be sure to go to Jessica's Reading Room on Facebook for a chance to win a SIGNED arc copy of The Fifth to Die sent to me by J.D. Barker!! It runs through Saturday morning!!!!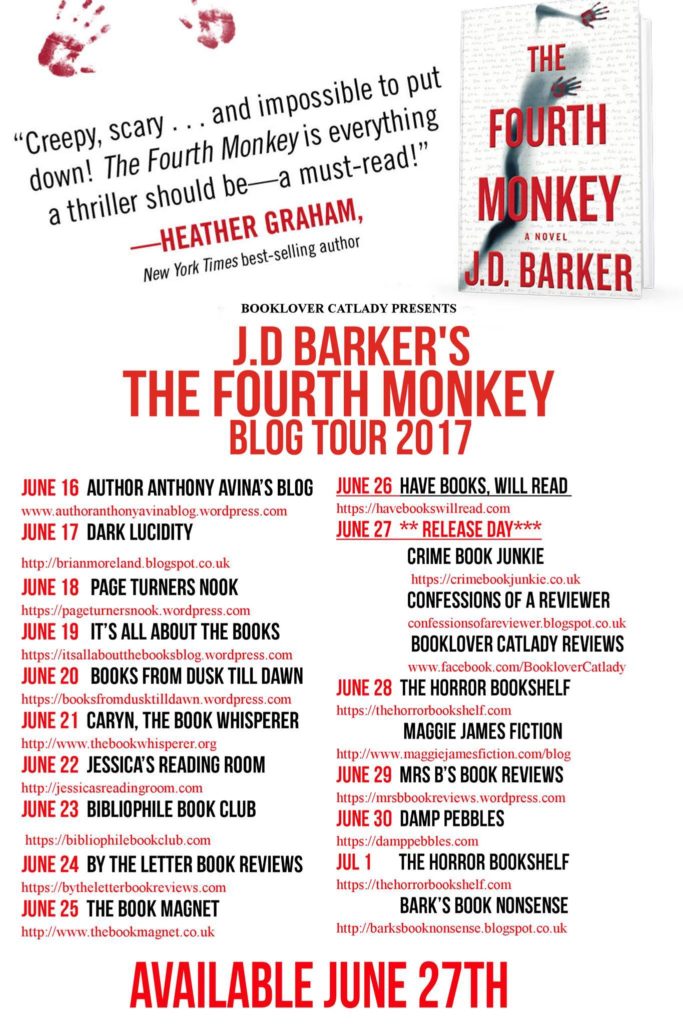 I am very excited to be the stop for the blog tour for J.D. Barker's upcoming novel The Fourth Monkey. It will be available next week.  I loved this book! My review and more is below: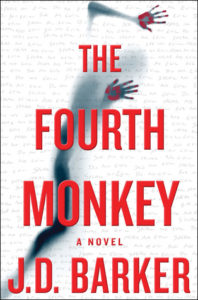 Pre-order The Fourth Monkey
Amazon US
Amazon UK
 416 pages in Paperback
To Be Published:  June 27, 2017
Dates Read: May 30-June 12, 2017
My Rating: 5 Stars
Book Summary from Amazon:
Se7en meets The Silence of the Lambs in this dark and twisting novel from the author Jeffery Deaver called, "A talented writer with a delightfully devious mind."
For over five years, the Four Monkey Killer has terrorized the residents of Chicago. When his body is found, the police quickly realize he was on his way to deliver one final message, one which proves he has taken another victim who may still be alive.
As the lead investigator on the 4MK task force, Detective Sam Porter knows even in death, the killer is far from finished. When he discovers a personal diary in the jacket pocket of the body, Porter finds himself caught up in the mind of a psychopath, unraveling a twisted history in hopes of finding one last girl, all while struggling with personal demons of his own.
With only a handful of clues, the elusive killer's identity remains a mystery. Time is running out and the Four Monkey Killer taunts from beyond the grave in this masterfully written fast-paced thriller.
Review:
The Fourth Monkey (4MK) was my first novel by J.D. Barker and it will not be my last!  It was brilliantly disturbing and I loved every page of it!  4MK is about a serial killer who has terrorized Chicago for five years, but then he is found dead and it appears he has taken one final victim.  It becomes a race against time to find 4MK's latest victim before it is too late.
There are multiple narrators in this novel, and if you follow my reviews then you already know I enjoy those types of novels.  The main narrators are Detective Sam Porter, the final victim, and even 4MK through diary entries.  We get to know Detective Porter well and learn about his private life, which is not perfect.  Porter has been on this case since the beginning and he wants to end this case for good.
This is a very intense, dark and disturbing novel to read. The chapters are short, which gives you that "just one more chapter" feeling and I did not want to put it down. EVER.  4MK is being compared to Silence of the Lambs and Se7en, and like both, 4MK has very graphic violence in it, so it will not be for everyone.  J.D. Barker is vivid in his descriptions.  For example, at one point I was reading a scene that involved a rat and could picture everything clearly in my mind. I cringed as I was reading because I thought the scene was going to go in a certain direction and could see that direction in my head.
The diary entries are very unsettling as we see the influences that show how 4MK became what he is today.  I believe a person can have a tendency for things such as violence, but one's environment can also affect a person.  4MK never had a chance to become anything other than what he did.  That is what makes those diary entries so disturbing.  For me the diary entries were more violent and troubling than the current case.
4MK takes place over a very intense and short time period. Barker does a remarkable job pulling you in and taking you for this ride with Porter as 4MK reaches its conclusion.   I thought I knew what the ending was going to be about 125 pages in, but I am glad to report that I was wrong.
I am very selective with my choice of five star reviews, and 4MK receives one!  In fact, I think it will be in my list of top reads of the year.
4MK is very highly recommended.
Thank you to Houghton Mifflin Harcourt for my arc review copy and for Booklover Catlady Publicity & Reviews for having me on the blog tour!
---
If you like the idea of The Fourth Monkey and think it should be a film, then you are in luck! Barker has sold publishing rights for The Fourth Monkey in America and other countries, and also has a TV and movie deal.
Do you want a draft copy of The Fourth Monkey? Check out this contest HERE that is going on!
Do you want to be a character in J.D.'s next book? Check out this contest HERE he has going on right now!
About the Author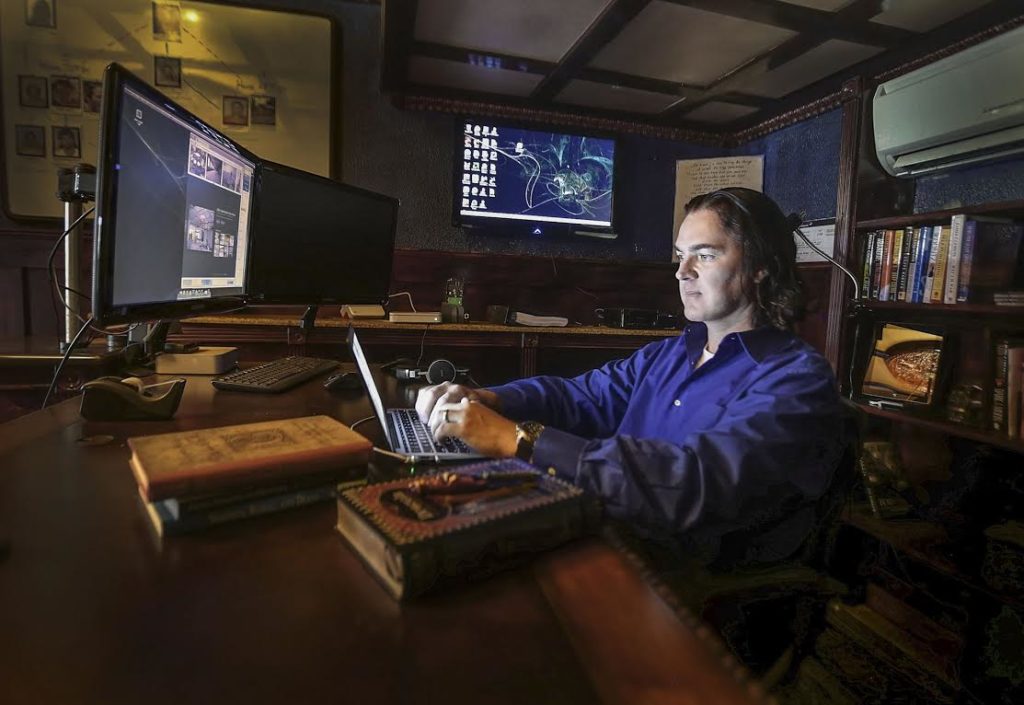 Barker was born January 7, 1971 in Lombard, Illinois and spent the first fourteen years of his life in Crystal Lake, Illinois. A staunch introvert, he was rarely seen without a book in hand, devouring both the Hardy Boys and Nancy Drew series by the age of six before moving on to classics such as the works of Dickens and Twain. The discovery of Shelley, Stoker and Poe fueled a fire and it wasn't long before he was writing tales of his own which he shared with friends and family. These early stories centered around witches and ghosts thought to inhabit the woods surrounding their home.
At fourteen, Barker's family relocated to Englewood, Florida, a climate better suited to his father's profession as a contractor. He attended Lemon Bay High School and graduated in 1989. Knowing he wanted to pursue a career in the arts but unsure of a direction, he enrolled at the Art Institute of Fort Lauderdale where he later obtained a degree in business. While in college, one of his writing assignment found its way into the hands of Paul Gallotta of Circus Magazine. Gallotta reached out to Barker and asked him to join the staff of 25th Parallel Magazine where he worked alongside the man who would later become Marilyn Manson. Assignments dropped him into the center of pop culture and by 1991 Barker branched out, interviewing celebrities for the likes of Seventeen, TeenBeat, and other national and local publications. In 1992, Barker syndicated a small newspaper column called Revealed which centered around the investigation of haunted places and supernatural occurrences. While he often cites these early endeavors as a crash course in tightening prose, his heart remained with fiction. He began work as a book doctor and ghostwriter shortly thereafter, helping others fine tune their writing for publication. Barker has said this experience proved invaluable, teaching him what works and what doesn't in today's popular fiction. He would continue in this profession until 2012 when he wrote a novel of his own, titled Forsaken.
Stephen King read portions of Forsaken prior to publication and granted Barker permission to utilize the character of Leland Gaunt of King's Needful Things in the novel. Indie-published in late 2014, the book went on to hit several major milestones – #2 on Audible (Harper Lee with Go Set a Watchman held #1), #44 on Amazon U.S., #2 on Amazon Canada, and #22 on Amazon UK. Forsaken was also nominated for a Bram Stoker Award (Best Debut Novel) and won a handful of others including a New Apple Medalist Award. After reading Forsaken, Bram Stoker's family reached out to Barker and asked him to co-author a prequel to Dracula utilizing Bram's original notes and journals, much of which has never been made public.
Barker's indie success drew the attention of traditional agents and publishers and in early 2016 his debut thriller, The Fourth Monkey, sold in a series of pre-empts and auctions worldwide with Houghton Mifflin Harcourt set to publish in the U.S. and HarperCollins in the UK. The book has also sold for both film and television.
Barker splits his time between Englewood, FL, and Pittsburgh, PA, with his wife, Dayna.
Contact J.D.
Website
Facebook
Twitter @jdbarker
Goodreads

[Top]