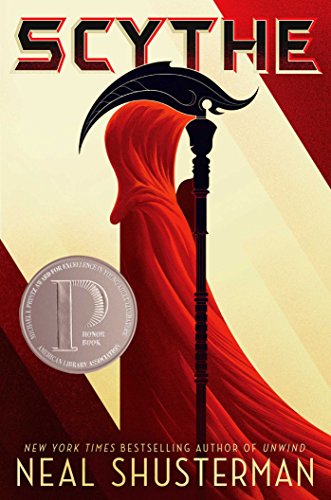 Author: Neal Shusterman
449 Pages
Published: November 22, 2016
Reviewed By: Kim
Kim's Rating: 5 Stars
Description from Amazon:
Two teens must learn the "art of killing" in this Printz Honor–winning book, the first in a chilling new series from Neal Shusterman, author of the New York Times bestselling Unwind dystology.
A world with no hunger, no disease, no war, no misery: humanity has conquered all those things, and has even conquered death. Now Scythes are the only ones who can end life—and they are commanded to do so, in order to keep the size of the population under control.
Citra and Rowan are chosen to apprentice to a scythe—a role that neither wants. These teens must master the "art" of taking life, knowing that the consequence of failure could mean losing their own.
Scythe is the first novel of a thrilling new series by National Book Award–winning author Neal Shusterman in which Citra and Rowan learn that a perfect world comes only with a heavy price.
Kim's Review:
In a Post Mortal world, all disease, death, old age, danger, weather, and mystery has been eliminated. The Thunderhead is conscious, dictatorial, yet benevolent presence in everyone's lives. For everyone, but the scythes. In a world without death, over population has become a grave issue. Space settlement is one of the rare things that is beyond Thunderhead. So, to combat overpopulation, Scythedom was created. The scythes are the professional killers who "glean" people's lives. Each scythe has his or her own way of gleaning, his or her own philosophy for why they glean. And most importantly, Scythedom doesn't interfere with Thunderhead and Thunderhead doesn't interfere with Scythedom. This is the world that Citra and Rowan live in. And in one day, both lives will change forever. Scythe Faraday, of the Old Order of thinking, decides to take both on as apprentices. And after a year, he will choose which one is most worthy to become a scythe. Both have excellent moral fiber, both are hard workers, and neither one wants the job. This book follows Citra's and Rowan's stories, down the roads each travel. As much as I want to divulge more detail from this book, to draw you in, to show you just how amazing this book is, I will not. I will not ruin this amazing journey that you will travel through this story. And I'll say in advance, "You're welcome!", and when you finish this book, you'll understand why!
When I started this book, I didn't realize that I would be giving it 5 stars. I will admit, I almost put this book down, because the beginning was a little slow. But boy howdy, am I glad I kept reading! This book is easily one of my favorites of this year! Neal Shusterman is my new hero and I cannot wait for the next book to come out in March! This book kept me guessing and not in that "oh I'm so stupid for not seeing that!" kinda way. And it was far deeper than I ever anticipated. I was questioning my views on life and death by the time I was done. And I hate thinking about my own mortality. But what if I was faced with a human immortality? Would each day mean as much? Would I get things that I want to accomplish done? Or would I forever push them off? Are humans meant to be immortal in our earthly bodies? Yeah, that's how I spent these last few days! Even when I wasn't reading, I was pondering. So please pick this book up. Enjoy it! Become engrossed in it! Consider its ideas, its philosophies. I can promise you that no matter what type of book you enjoy, you will revel in this one!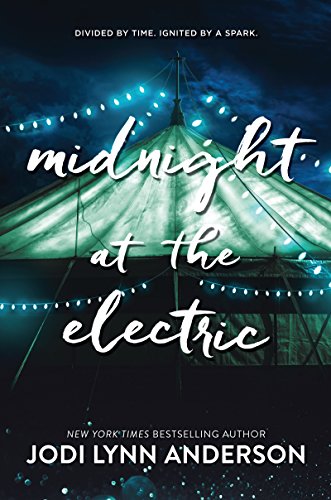 Author: Jodi Lynn Anderson
272 Pages
Published: June 13, 2017
Reviewed By: Kim
Kim's Rating: 5 Stars
Description from Amazon:
Kansas, 2065: Adri has been handpicked to live on Mars. But weeks before launch, she discovers the journal of a girl who lived in her house more than a hundred years ago and is immediately drawn into the mystery surrounding her fate.
Oklahoma, 1934: Amid the fear and uncertainty of the Dust Bowl, Catherine's family's situation is growing dire. She must find the courage to sacrifice everything she loves in order to save the one person she loves most.
England, 1919: In the recovery following World War I, Lenore tries to come to terms with her grief for her brother, a fallen British soldier, and plans to sail to America. But can she make it that far?
While their stories span thousands of miles and multiple generations, Lenore, Catherine, and Adri's fates are entwined in ways both heartbreaking and hopeful. In Jodi Lynn Anderson's signature haunting, lyrical prose, human connections spark spellbindingly to life, and a bright light shines on the small but crucial moments that determine one's fate.
Kim's Review:
Midnight at the Electric is a three-part story, ranging in years from 2065 to 1934 to 1919. In 2065, Adri has been chosen to be a colonist to Mars. She goes to the tiny town of Canaan, Kansas to see her long lost cousin, Lily, before she leaves the planet. While spending her remaining weeks on earth with Lily, Adri discovers letters and postcards and journals involving other women, living on the farm in past years. Catherine is a teenager in 1934 Kansas, right smack dab in the middle of the Dustbowl.
Catherine is faced with a sister who has dust pneumonia, a mother who refuses to leave her farm, and a serious crush on the farmhand, Ellis. While keeping a journal of her life on the farm and her struggles with family, economy, and love, Catherine discovers a woman named Lenore, from her mother's past. Lenore is the daughter of a wealthy factory owner who dreams of going to America, to live with her best friend, Beth. While working at her father's factory to save up money for her ticket, she meets a stranger living on her family's estate. Their lives become intertwined and begins a saga that spans the ocean, continents, and time.
This book was awesome! I read Anderson's previous book, Tiger Lily, based on a recommendation from Margot from Epic Reads. Unfortunately, I was not impressed. But after reading the jacket summary for Midnight at the Electric, I decided to give her another chance. And boy, am I glad I did! Another 5-star book! I couldn't put this book down. I will admit that I didn't necessarily like every character in this book, but the story got me emotionally hooked. By the time I finished the last page, I had tears welling up in my eyes. My husband took one look at me and said, "Are you ok? You look so sad!" Yes, I was sad, but the happy kind of sad. This book just brought in all the feelings and it felt good, and sad, and happy, and heartbroken, all at the same time. That's always the hallmark of an enjoyable book, the feelings it elicits. ? Oh, and I would like a pet tortoise . . . so anyone who wants to get me one, that would be great!
[Top]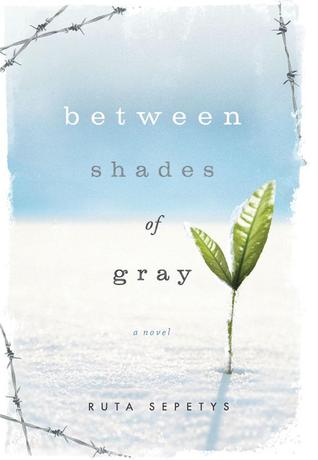 Author: Ruta Sepetys
344 Pages
Published: March 22, 2011
Reviewed By: Kim
Kim's Rating: 4 Stars
Description from Goodreads:
Lina is just like any other fifteen-year-old Lithuanian girl in 1941. She paints, she draws, she gets crushes on boys. Until one night when Soviet officers barge into her home, tearing her family from the comfortable life they've known. Separated from her father, forced onto a crowded and dirty train car, Lina, her mother, and her young brother slowly make their way north, crossing the Arctic Circle, to a work camp in the coldest reaches of Siberia. Here they are forced, under Stalin's orders, to dig for beets and fight for their lives under the cruelest of conditions.
Lina finds solace in her art, meticulously–and at great risk–documenting events by drawing, hoping these messages will make their way to her father's prison camp to let him know they are still alive. It is a long and harrowing journey, spanning years and covering 6,500 miles, but it is through incredible strength, love, and hope that Lina ultimately survives. Between Shades of Gray is a novel that will steal your breath and capture your heart.
Kim's Review:
Between Shades of Gray follows the journey of Lina Vilkas after the arrest of her family by the NVKD in 1941. Her mother, her brother, Jonas, and Lina are taken to the train station and put on a train bound for who knows where. All the Vilkas can think is that their father is not with them. They spend six weeks on the train rumbling through Soviet Russia. Hunger, thirst, lice, and the smell of filth became part of their daily lives. The Lithuanians in the train get to know one another, some encouraging friends, some griping realists. Lina meets Andrius, the boy who becomes her rock throughout most of her time in Siberia. After disembarking at the Altai Labor Camp, Lina and her family begin to adjust to life under Soviet rule. Doing everything they can to survive, they try to hold on to their compassion and humanity, despite the cruelty of their captors. After nearly a year in Altai, the family is moved deeper into the frozen tundra of primitive Russia. They meet with their hardest struggles during this time. Sickness, heartbreak, freezing polar night. Through all the pain, Lina realizes just how gray life can be.
I gave this book 4 stars, because I love the story and the characters. I became engrossed in the story, in the fact that Lina, Jonas, and Andrius never seem to lose hope. But dang!! I closed the book and wanted to throw it across the room! Years of their lives, lives that I had become invested in, weren't there! Nothing! There's a general piece of information that is given, but no details. No weddings, no journeys back, no reunions, no nothing! I hurts my heart! I want to write to Ruta and ask her to write a sequel, because I cannot live on such a lack of detail.
I absolutely recommend this book. In fact, I recommend this book to every teenager alive! One thing that struck me was how little I have to complain about. I have food on my table every day. I have a roof over my head. I live in a country where any ideas, any opinions are allowed and encouraged. And then, there's the gray in this life. Life is not black and white. I believe there are absolutes, but that does not mean that I refuse to see the gray, the complications. In this book, survival could only be found in those shades of gray. And don't forget the beauty. Lina, as an artist, never lost her eye for the beauty that could be found in all the pain and hardship. This book showed the world in all its cruelty, its beauty, and its many shades.
[Top]