Authors: Trisha Leaver  and Lindsay Currie
Published: August 7, 2015
226 pages
Reviewed By: Kim
Kim's Rating: 4 stars
Book Description from Amazon:
Sad young woman … or cold-blooded killer?
On a steaming August day in 1892, a sweet-faced, young woman in Fall River, Massachusetts stepped from a naive girlhood into a dark legend that has lasted for more than a hundred years. On that day, Andrew Borden, a prosperous businessman, was found hacked to death in his parlor. Upstairs, police find his wife, Abbey — just as dead. Andrew's youngest daughter, Lizzie, was charged with the murders, sending shock-waves through the nation. A jury found her not guilty, for no one saw a thing and there wasn't a single real clue. Still, as this captivating realistic novel suggests, someone may have known the truth.
Told through the eyes of Lizzie's Irish maid, Bridget Sullivan, who may have been Lizzie's only true friend, Sweet Madness tells of a cruel, penny-pinching father who had plenty of enemies, an ambitious second wife, a distant older sister and Lizzie, a trusting and kind soul who grew more unstable by the day. A carefully researched account from a bystander who was once a prime suspect, Sweet Madness will give you a look into the doomed house on Second Street and a deeper understanding of one of history's saddest and most controversial crimes.
Kim's Review:
I really liked this book and read it in almost one sitting. It kept me engaged and anticipating what the next page would say. Bridget was a realistic and likeable voice and I think she was the perfect narrator for the story. The authors captured the offness of the Borden house and of the Bordens themselves. I thought I knew the story of Lizzie Borden before I started reading, but the authors took the mystery surrounding the murders and molded it into a twisting and believable theory. The only critique I would give is that I wish the epilogue gave a little more info on Lizzie's trial. I had to look up what the results of the trial were, even though the info was hinted at in the book. I just felt that I needed a little bit more. Other than that, the story was awesome. I didn't want to put the book down. You felt every moment of tension, frustration, and fear right along with Bridget, Mr. and Mrs. Borden, and Lizzie. It amazed me the difference I could feel at specific times in the book. My stomach would literally lock up at the tension. This would be a great read for anyone looking for an easy mystery, especially those who enjoy cold cases. It's on the shorter side so it doesn't take long to get through. I absolutely recommend this book!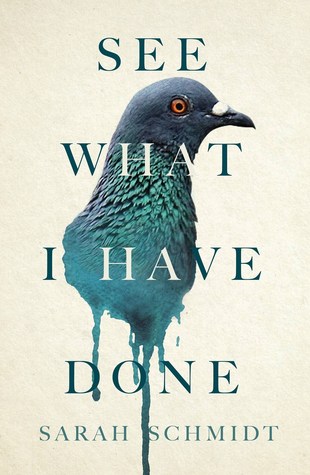 Author: Sarah Schmidt
Published: August 1, 2017
328 pages in Kindle
Reviewed By: Jessica
Dates Read: August 2-13, 2017
Jessica's Rating: 4 Stars
Book Description from Goodreads:
In this riveting debut novel, See What I Have Done, Sarah Schmidt recasts one of the most fascinating murder cases of all time into an intimate story of a volatile household and a family devoid of love.
On the morning of August 4, 1892, Lizzie Borden calls out to her maid: Someone's killed Father. The brutal ax-murder of Andrew and Abby Borden in their home in Fall River, Massachusetts, leaves little evidence and many unanswered questions. While neighbors struggle to understand why anyone would want to harm the respected Bordens, those close to the family have a different tale to tell—of a father with an explosive temper; a spiteful stepmother; and two spinster sisters, with a bond even stronger than blood, desperate for their independence.
As the police search for clues, Emma comforts an increasingly distraught Lizzie whose memories of that morning flash in scattered fragments. Had she been in the barn or the pear arbor to escape the stifling heat of the house? When did she last speak to her stepmother? Were they really gone and would everything be better now? Shifting among the perspectives of the unreliable Lizzie, her older sister Emma, the housemaid Bridget, and the enigmatic stranger Benjamin, the events of that fateful day are slowly revealed through a high-wire feat of storytelling.
Jessica's Review:
Lizzie Borden took an axe
And gave her mother forty whacks.
When she saw what she had done,
She gave her father forty-one.
Nearly everyone has heard this rhyme and this case.  Andrew and Abby Borden were both brutally murdered in their home with an axe; Andrew's daughter Lizzie was arrested and brought to trial for their murders. She was found not guilty and the murders are still unsolved today. Sarah Schmidt took a 10 year writing process/obsession and has brought us the fictional account of what led to the murders and afterwards with See What I Have Done.
There are four narrators in See: Lizzie, her sister Emma, Bridget the maid, and the enigmatic Benjamin who is a fictional character. Each narrator brings something different to this very disturbing story and family. It is a slow moving novel that at times can be hard to follow with the narratives. See goes back and forth within the chapters which can be confusing.    I had to reread some paragraphs several times because of the confusion.
There is a timeline included at the end of the novel. I felt that would have been better used at the beginning as an introduction to see where things will go for those who don't know many details about the case. I felt a "cast of characters" would have been helpful as Schmidt seems to assume that the reader will know who each character is.
Even knowing this novel is fictional, it all seemed very real.  This comes with the in-depth research that Schmidt did. It does make you think about the case and wonder what really happened.  If you are looking for a good fictional introduction to Lizzie Borden, this is the place to start. If you are looking for anything 'new' with the case or any conclusions as to who did commit the murders, you will not get that.
Despite the issues I had, Schimidt did a very good job with See, which is her debut novel and it is an accomplishment. Living and breathing Lizzie for 10 years must have affected her as she 'lived' with these real people for so long. You can see in the Author Acknowledgements where she thanks Lizzie, but asks her to move on.
I received a copy via NetGalley, thank you so much for my copy!
[Top]