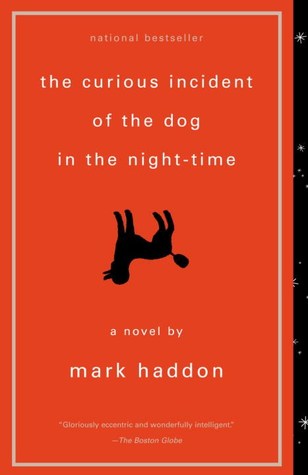 Author: Mark Haddon
AUDIOBOOK
Published: July 31, 2003
Dates Read:  March 7-14, 2017
My Rating: 5 stars
Book Summary from Amazon:
Christopher John Francis Boone knows all the countries of the world and their capitals and every prime number up to 7,057. He relates well to animals but has no understanding of human emotions. He cannot stand to be touched. Although gifted with a superbly logical brain, Christopher is autistic. Everyday interactions and admonishments have little meaning for him. Routine, order and predictability shelter him from the messy, wider world. Then, at fifteen, Christopher's carefully constructed world falls apart when he finds his neighbor's dog, Wellington, impaled on a garden fork, and he is initially blamed for the killing.
Christopher decides that he will track down the real killer and turns to his favorite fictional character, the impeccably logical Sherlock Holmes, for inspiration. But the investigation leads him down some unexpected paths and ultimately brings him face to face with the dissolution of his parents' marriage. As he tries to deal with the crisis within his own family, we are drawn into the workings of Christopher's mind.
And herein lies the key to the brilliance of Mark Haddon's choice of narrator: The most wrenching of emotional moments are chronicled by a boy who cannot fathom emotion. The effect is dazzling, making for a novel that is deeply funny, poignant, and fascinating in its portrayal of a person whose curse and blessing is a mind that perceives the world literally.
The Curious Incident of the Dog in the Night-Time is one of the freshest debuts in years: a comedy, a heartbreaker, a mystery story, a novel of exceptional literary merit that is great fun to read.
Review:
Christopher is our narrator for The Curious Incident of the Dog in the Night-Time. For the rest of the review it will be referenced as The Curious Incident. Though not mentioned by name in the novel, Christopher has Asperger's Syndrome, a high functioning form of autism. He is fifteen and one day he finds his neighbor's dog has been killed. The Curious Incident is his journey to find the dog's killer, but it becomes much more than that: It is a tale of a boy trying to find his place in our very complicated world.
Mark Haddon used to work with autistic individuals and his writing perfectly shows us how a person with Asperger's may think. Haddon really gets us inside Christopher's head. I became fully involved in the journey and was with Christoper every step of the way.
I chose to read this book as it is next in a book club I have joined. Since my reading list is very full I had to listen to it on CD versus actually reading it. This review is for the audio version. I knew there were pictures throughout the novel, so I was prepared to get the actual book as well. I was worried I might miss something by not seeing the pictures. The narrator did a great job in his narration and I do not feel that I missed anything by listening to the audio version. I was actually able to get a copy of The Curious Incident at my local library book sale, so I was able to see what the pictures looked like in the novel.
One thing I was confused about as I started listening to the CD were the chapters. The novel did not begin with chapter one. They are instead numbered differently with prime numbers. Once that was explained I was fine. At first I thought the first chapter was skipped in the CD I was listening to!
Some other things to keep in mind if you are going to read The Curious Incident. Christopher is very detail driven in his narration. At times it could be seen as if it was dragging on, but this is who Christopher is and he can't help it. He is very literal in his thoughts and explanations. Math is mentioned a great deal in The Curious Incident. For those of us that are not mathematically inclined, this can seem to keep going like the Energizer Bunny.
Christopher also doesn't like jokes as he can analyze them, but he doesn't understand them. He is writing a book on his mission to find out who killed the neighbor's dog, and he says the book will not be funny, but he is so literal in this thinking that at times he is funny without realizing it and you can't help but giggle a time or two.
This was a very enjoyable read for me. It is a shorter novel around 220 pages that could be read very quickly, though it may not be for everyone. It seems The Curious Incident is either a love it or hate it kind of novel.
The Curious Incident is highly recommended.