Local Woman Missing
Author: Mary Kubica
Published: May 18, 2021
Audiobook
Reviewed By: Jessica
Dates Read: March 2-8, 2022
Jessica's Rating: 4 stars
Book Description:
People don't just disappear without a trace….
Shelby Tebow is the first to go missing. Not long after, Meredith Dickey and her six-year-old daughter, Delilah, vanish just blocks away from where Shelby was last seen, striking fear into their once-peaceful community. Are these incidents connected? After an elusive search that yields more questions than answers, the case eventually goes cold.
Now, 11 years later, Delilah shockingly returns. Everyone wants to know what happened to her, but no one is prepared for what they'll find….
In this smart and chilling thriller, master of suspense and New York Times best-selling author Mary Kubica takes domestic secrets to a whole new level, showing that some people will stop at nothing to keep the truth buried.
Jessica's Review:
Mary Kubica has mainly been a miss for me. I enjoyed her first novel The Good Girl but figured out the big reveal. And I like to have my mind blown and not figure 'it' out. I had read some of her other novels, but then decided she was not an author for me. Authors will not reach every reader. Then I heard about Local Woman Missing and it was seemingly getting good reviews, so I decided to give her one more try… And I am so glad I did! I was drawn in from the beginning and had no idea what direction it was going to go let alone what that ending would be! And that last 20%: OMG!!! That last portion of the book was very intense and I HAD to finish it!
Local Woman Missing has what I like in it: multiple narrators and we also have the two timelines: Present and 11 years ago. Are the missing women connected or not? Eleven years later how and why did Deliah return? And what secrets does she have?
The novel is far from perfect with the lack of believability in it and unanswered questions along with some decisions made by certain characters. I just enjoyed this novel for what it was and went for the ride. Local Woman Missing did have me forgive Mary Kubica, and if she writes a novel that interests me, I might read it.
I listened to the audiobook and there were multiple narrators, which also helped with my enjoyment of the novel.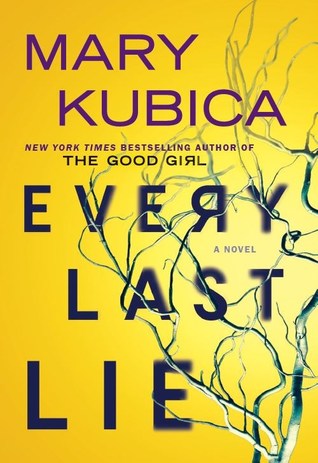 Author: Mary Kubica
Published: June 27, 2017
AUDIOBOOK
Reviewed By: Jessica
Dates Read: August 6-21, 2017
Jessica's Rating: 3 Stars
Book Description from Amazon:
Clara Solberg's world shatters when her husband and their four-year-old daughter are in a car crash, killing Nick while Maisie is remarkably unharmed. The crash is ruled an accident…until the coming days, when Maisie starts having night terrors that make Clara question what really happened on that fateful afternoon.
Tormented by grief and her obsession that Nick's death was far more than just an accident, Clara is plunged into a desperate hunt for the truth. Who would have wanted Nick dead? And, more important, why? Clara will stop at nothing to find out—and the truth is only the beginning of this twisted tale of secrets and deceit.
Told in the alternating perspectives of Clara's investigation and Nick's last months leading up to the crash, master of suspense Mary Kubica weaves her most chilling thriller to date—one that explores the dark recesses of a mind plagued by grief and shows that some secrets might be better left buried.
Jessica's Review:
Mary Kubica may not be the author for me.  I did enjoy her first book The Good Girl, but I figured out the big twist to it. I wish I had not as I would have enjoyed it much more. I have read all of her books except Don't You Cry and I do still plan to give it a chance and read it.  The book description of Every Last Lie intrigued me and I was excited to find out my library offered it as an audiobook. Knowing there are two narrators (Nick from before the accident and also Clara), I was ready for this book! I am a huge fan of multiple points of views in books.
Nick dies in a car crash while his and Clara's young daughter Maisie survives unharmed. The crash is ruled an accident but Clara has her doubts and believes that someone killed Nick. She has no idea why someone would kill Nick. She starts digging and discovering secrets that her husband had that makes her wonder if she ever really knew him.
Days before Nick dies in the accident Clara gives birth to their second child.  Giving birth and also dealing with Nick's death, Clara experiences a wide range of emotions throughout the novel.  Mary Kubica got these emotions spot on!  I actually had to stop listening to the audiobook for a short time as the emotions Clara experienced affected me.  Those emotions felt 100% real and I started to identify with them.  Once I was in a better place, I picked the audiobook back up and started it over.
It is a slower paced novel but I never lost interest in it. I really wanted to know what happened with Nick. The direction that the author chose to go with was not for me.  It was an unexpected route that people will either like or dislike.  For me it was a big build up to get to the conclusion, which not deliver.  There are some other things I did not like about the novel: There are several times that Clara leaves her children in the car alone while she 'investigates'.  No child should ever be left in car alone, especially small children, with one being an infant.  There was also one decision that Clara made towards the end that was a bit extreme for me. Nick also ends up having so many secrets it seems unrealistic that Clara would not have known something was going on.
Every Last Lie was not for me, so I can't recommend it.
[Top]