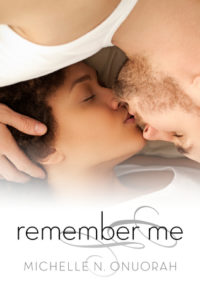 Author:  Michelle Onuorah
209 Pages in Kindle
Published: April 26, 2014
Dates Read: December 12-24, 2014
My Rating: 4 Stars
Book Summary from Amazon:
Kristen Tyverson lives the ideal life. Happily married, with three children, she has worked her way to becoming one of the most successful reporters in the country. While reporting on conditions in Afghanistan, she is severely injured during a bombing. For months, she is presumed dead, and her family mourns her passing, unaware that she has survived. When she is found alive, it is revealed that she has no recollection of the past 10 years of her life. Her husband, her children, her career: all a mystery to her. Grateful to have his wife back and determined to hold their family together, Mark Tyverson makes it his mission to win his wife's heart again — regardless of whether she remembers him or not. Remember Me is a story that traces the hard work of piecing back a life torn apart by memory loss. It explores the hardship both the victim faces as well as those around her, robbed of the person they know when she is robbed of the memories she had. Will Kristen, Mark, and their three children be able to rise to the challenge?
**Please note there is occasional cursing and various references to sexuality and spirituality within this work of fiction. Reader discretion is advised.**
---
My review in 2014:
I wasn't sure about Remember Me when I first read the description of the book, as to me the "lost memories" books have been overdone. But Michelle Onuorah had a sale on Remember Me for .99, so I figured "why not?" and got the book. (I had LOVED Type N and Taking Names. I knew it is a different type of book from those.)
I am glad I did buy Remember Me as I enjoyed it! It is all about love; not just romantic but family love. I expected more romantic love based on the cover, but still enjoyed the book.
The beginning is heartbreaking: What Mark goes through thinking Kristen passed away, when in fact, we as the reader know she is alive! I am just a few years younger than Kristen so I identified with her when she realized how much time in her life she lost. I put myself in her position thinking back to the year 2003 and how much of my life I would have lost. I actually put the book down and thought about that for a while.
I enjoyed the faith that Mark and Kristen have in the book. Michelle Onuorah is a proclaimed Christian and wrote that disclaimer in the description of the book. I look forward to reading more from Michelle Onuorah in the future!
Type N Series
Author: Michelle Onuorah
The Type N series is supposed to be a trilogy. The final book has not been written yet. Type N is the first book I read by Michelle Onuorah. I have since read all of her novels. I think I just came across Type N searching on Amazon one day. The cover is simple and what drew me to the book. Then I read the description and I HAD to read the book! Both books in the series are short, and fast paced. I never wanted to put my kindle down as I read them!  I don't give out 5 star reviews like candy as some reviewers do, I have to be blown away to give a 5 star review. I loved both of these books! Both books received a 5 star review from me.   **Both books in the series that have been written will be featured today.
Books in the Series:
Type N
Taking Names
---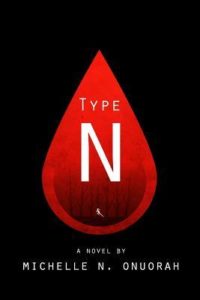 Type N
158 Pages in Kindle
Published: May 26, 2013
Dates Read: June 29-July 1, 2014
My Rating: 5 Stars
Book Summary from Amazon:
What would you do if your blood could cure cancer? 18-year-old Nicolette Talloway is the target of a worldwide manhunt because of her blood type. When delivered via transfusion, her blood heals any ailment a human has and strengthens their immune system. The cure for cancer, HIV/AIDS, and other previously incurable diseases is running through her veins. Her blood is the only type of its own known to exist. As a result, Nicolette is no longer a private citizen but is the world's most wanted and sought-after human being. As she runs from government appointed agents, the question begins to shift from what her blood can do to why she has it. Is this a gift from God? And if it is, what does he want her to do with it?
***Please note there is occasional cursing, violence, and references to spirituality within this work of fiction. Reader discretion is advised.
My Review in 2014:
I am not a fast reader. But I could not put this book down! Within 24 hours of picking it up I had 69% read and the book finished within 48 hours! If I had not had to work, I would have had it finished within 24 hours.
It grabs you from the beginning. So much of it seems like that is what would happen if a we found a person who actually had curative blood. There were two parts of the book that did not seem realistic to me: (BEGIN SPOILERS: When Jason's friend (I forget her name as I write this) taught them to fight- I thought they picked it up and were too good too quickly. And the bigger unrealistic thing to me was when Jason took Nicolette to Disneyland because she was stressed- if you are on the run from the government you wont take a side trip like that! END SPOILERS)
Regardless of what I mentioned above, I REALLY LOVED this book! It was just too short (150 pages) the good thing about being short like that is that there wasn't any space to drag. I look forward to the sequel once the author finishes it!!!!!
---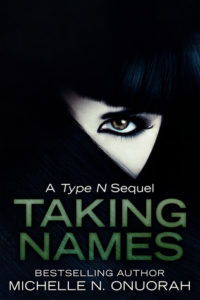 Taking Names
147 Pages in Kindle
Published: November 7, 2014
Dates Read: October 21- November 2, 2014
My Rating: 5 Stars
Book Summary from Amazon:
They took her love…and gained her enmity.
Nicolette Talloway has finally found happiness. As the only person in the world whose blood can cure any disease, she has managed to give her blood on her own terms without any interference from the government. Sure that she has found a permanent solution, she and the love of her life, Jason, settle into a new beginning together.
That is…until they are found.
There is a new President in charge and a new agenda written for Nicolette's blood – whether she wants to play ball or not. The problem is: they've pushed her too far. And when she finally decides to take matters into her own hands, Nicolette will no longer run from authorities or give her blood but will stand her ground and start Taking Names.
My Review in 2014:
The second in the Type N Trilogy and it did not disappoint! Taking Names is another fast paced book that I did not want to put down! I only wish I had been able to read it as quickly as I did with Type N. I like seeing how Nicolette grew from the child she was at the beginning of Type N to now. I can't wait to see where Michelle Onouorah goes with the final book in the series.
I had in my head that the ending was going to go in one of two ways. Both would have been good cliffhangers in my opinion. And one of my thoughts was how she did end the book.
The spiritual elements are well done as well with an important issue Nicolette faces: Forgiveness. Michelle has said that she is a Christian and that is in her books, well done, and not "in your face".
I can't wait for the final in the series! I can't wait to see how this story ends for all the characters. Great job Michelle!!!!
**I was sent an ARC in exchange for a review from Michelle Onouorah.
[Top]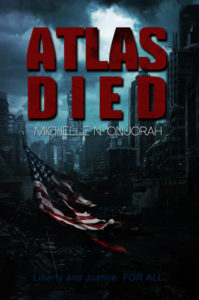 Author:  Michelle Onouorah
310 Pages in Kindle
Published: July 29, 2015
Dates Read: July 29th- August 29th, 2015
My Rating: 4 Stars
Book Summary from Amazon:
USA circa 2628. The only thing unchanged? Those three letters.
There are no states.
There is no freedom.
Lobbyists make all the laws.
And a government of the people, by the people, and for the people died many, many years ago.
The nation is now split in two: wealthy Atlas residents and impoverished Commons workers. The middle class, an endangered species, accounts for less than 1% of the already-shrunken population. Ravaged by stagnant wages, exorbitant taxation and limited education, Commoners, the majority of USA citizens, struggle to survive. The political and civil inequity has transformed "the land of the free" to "the home of the miserable" and destinies are no longer self-determined. The very values the nation once held dear have languished for centuries in history books no one has taken the time to read.
No one except Decker Channing.
A 32-year-old police officer, Decker has silently witnessed systematic oppression his entire life and knows it is the antithesis of what the founding fathers stood for. When a life or death situation forces him to make a split decision, Decker realizes he can no longer remain silent. Unwilling to watch his country descend into further tyranny, he rallies the men and women around him to rise up and take a stand. Drawing strength from the ideals of the abandoned Constitution, he and a mysterious dark eyed woman fight to restore the USA to what it once stood for: life, liberty and the pursuit of happiness. But in order to do this, one thing becomes clear.
Atlas must die.
***Please note this story is 70% action and 30% romance, told from the hero's POV. This story would primarily appeal to readers who like action, dystopia, politics, and a thriller element alongside romantic themes.***
**Please also note that there are instances of profanity, mild violence, and unapologetic themes of religion, politics and spirituality within this work of fiction. Reader discretion is advised.**
---
My review in 2015:
I am a huge fan of Michelle Onouorah! This is her newest novel. And this is another good one written by her. This dystopian novel really makes you think about where our country may be going, and not for the better……
This book really made me think and I teared up a little towards the end.
I can't wait to read more from this author!
[Top]