Love Finds You
Series: Helena's Grove #1
Author: Ivy Alexander
Narrator: Jennifer Groberg
Originally Published: July 22, 2013
Published on Audio: October 5, 2022
Audiobook: 3 hours 41 minutes
Reviewed By: Jessica
Dates Read:  April 13-16, 2023
Jessica's Rating: 4 stars
Book Description:
Jennifer Berkley is a straightforward, ambitious, soon-to-be lawyer in the fast, driven city of New York. She doesn't have the patience or time to deal with people who can't or won't give her what she wants. When her father asks her to visit her aunt in Ohio as her last dying wish, Jen is immediately resistant, but reconsiders when her father makes her an offer she can't refuse.
Jen finds Ohio a much different pace than New York, and is beginning to enjoy country life when she meets Zack LaFaye, a good-looking, helpful man who is adored by her aunt. Each encounter with him leaves Jen flustered and annoyed. The question is glaring: does she have feelings for him, or does she hate him so much that she can't decide?
Amidst a country backdrop, Jen discovers feelings and experiences no city girl is prepared for. As the summer unfolds, she finds herself questioning everything. Using her skill and training as a lawyer, Jen uncovers a trail of deceit she didn't see coming. With a vengeance, she is determined to find out the truth. Someone is lying to her, but who?
Jessica's Review:
This is a series I read back in 2015 and enjoyed, but honestly don't remember much about it.  I had the opportunity to listen to the series since it is new in audio from the author, which I appreciate very much!
Love Finds You is the first in the Helena's Grove series and Jen is our main character.  She is from New York and a lawyer in her father's law firm.  She is all work and no play for her and her employees. We see from the beginning how tough she is (I wouldn't want to work for her!).
Her father tells her that her Aunt Gabby is sick and has requested to see her as her dying wish. Jen hasn't seen her since she was five, but her father gives her the opportunity of a lifetime: Spend 3 months in Ohio and when you come back you will be partner at 25 years old.  Jen goes for it.
And thus begins the story and turning point for Jen. This book is like a typical Hallmark movie: A tough, workaholic city girl goes to the country for one reason and falls for the town and people there. While there she learns who she really is and becomes a new person.  And of course there is a guy! There's always a guy! LOL
There are a few 'twists' that comes along for a romance story such as this. There is of course the typical scene of the city girl's outfit getting ruined from the mud, and or course Jen doesn't know what branding is…. Uh oh! 
Love Finds You is a sweet, clean, and entertaining read that can be a refresher from all of those thrillers I read. You know how it is going to end from the beginning, why else would you pick it up (or watch that Hallmark romance movie?) Sometime you just need something that is easy to read, is fun and light-hearted. It has THE line that is getting all the attention in social media groups these days: Some form of: She released a breath she didn't realize she was holding. When I heard that I just about died laughing! It's a line I am on the lookout for in books now and it seems to be in most of them!
The narrator is Jennifer Groberg and she did a good job with her narration. She portrayed Jen very well. You could sense the change in Jen's character over the course of the novel. 
Many thanks to the author Ivy Alexander for sending me an audio copy to listen to! I am happy to be returning to Helena's Grove!
French Holiday
Author: Sarah Ready
Narrator: Kelsey Navarro  
To Be Published: April 26, 2023
Audiobook: 12 hours 3 minutes
Reviewed By: Jessica
Dates Read: April 5-13, 2023
Jessica's Rating: 4 stars     
Book Description:
One (crumbling) French castle. Two enemies-at-first-sight. The holiday of a lifetime.
Merry DeLuca has a problem—a big problem. Her sister just married her best friend and the only man she's ever loved. Her life is rapidly spiraling down the drain and she doesn't have an escape plan.
So when Merry is offered a three-month holiday living in a romantic castle in the French countryside she leaps at the chance. Merry knows her French holiday will fix everything—there will be mouthwatering pastries, delicious (meaningless) flirtations, and languid strolls through vineyards at sunset. Her holiday will be perfect.
At least, Merry believes that until she arrives and finds Noah Wright—the best man at her sister's wedding and the worst man she's ever known—staying in her castle.
Famous travel documentarian by day and arrogant devil by night, Noah refuses to leave the castle. Which means that Merry and Noah are stuck together in France, in a crumbling castle, in a holiday where nothing goes right. Not for Merry and not for Noah.
So they strike a truce—they'll live as cohabitating friends for three-months, and then they'll amicably part ways, never to see each other again.
But the thing about friendship? Sometimes secrets are uncovered. Mysteries revealed. Hearts laid bare. And friendship can start to feel a lot like caring. A lot like love. It can even make you wish that the holiday never has to end.
Jessica's Review:
Look at this: Jessica listened to a romance book! Well chick-lit at least.  And it was an entertaining listen! It was a fun/fluffy book to listen to, and had several cliché tropes to it: unrequited love, best friend marries sister, and enemies to lovers. Of course, there are more that I am not giving away! Like all chick lit reads, you are in it for the light heartedness and a fun beach read type book. And you get that with French Holiday.
We experience the wedding of Merry's sister to Leo and meet Noah, the guy she instantly hates. And he keeps popping back up in Merry's life when she would rather never see him again! And one of those places is a French castle that she is staying at for three months!
Of course, you know where the story will end and we have a journey to get there. Some parts were a bit much for me- there is an over-the-top extended scene starring a lobster that was very similar to the scene from the Little Mermaid. It just went on way to long for me! But that lobster was entertaining to say the least! 
For most of the novel it was a three-star read for me, until we find out something about Noah, and then I was ready for the rest of the story! It picked up for me after that.  We also had a bit of a mystery involving a painting that pulls things together and gives some intrigue to the story.
This was a first novel for me from the author and narrator. I did enjoy the story and narration. If you enjoy romcom/ chick lit/ romance you should give it a try! Many thanks to the publisher for granting me an audio-arc to listen to.
Pre-order Links:
Amazon US
Amazon UK
[Top]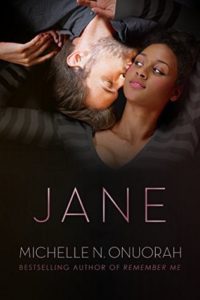 Author: Michelle Onuorah
414 Pages in Kindle
Published: February 6, 2015
Dates Read: February 11- March 4, 2015
My Rating: 5 Stars
Book Summary from Amazon:
Orphaned. Neglected. Hurt and abused. Jane Daugherty has survived what can only be described as the childhood from hell. After years of mental, physical, and sexual abuse, she has become a fiercely independent young woman – closed off from human connection. Unable to trust people or their ability to be kind, she has vowed to build a new life for herself so that she never has to rely on others again. At 24-years-old, she is fulfilling this vow, successfully working as the youngest tenure-track professor at the University of New York. Brilliant and remarkably accomplished, Jane's life takes an unexpected turn when she is reunited with the childhood friend she protected in foster care. Alexa Masterson introduces Jane to the family that adopted her, a family that includes her older brother, Aiden Masterson. Instantly drawn to each other, Aiden and Jane embark on a relationship that will either destroy them both or shape them into the man and woman they were always meant to be. Can what started as lust transform into love? And what will bring about the transformation that they ultimately need?
**Please note there is occasional cursing, mild violence, and unapologetic references to sexuality and spirituality within this work of fiction. Reader discretion is advised.**
---
My review in 2015:
Jane by Michelle Onuorah- What can I say? WOW. Jane and Aiden are two imperfect people. At times I liked Jane's character, and at times I didn't. That's a sign of good writing, getting so into the story and liking the character one moment, and then the next moment wanting to knock some sense into her! At times she seemed older than 24, due to what happened to her in past and how far she got in her education; other times I had to remind myself that she is just 24 and still immature in some ways.
When I started reading it, I thought it would be the "Christian Aiden" and the unsaved Jane. It is not that, so that was a welcomed change. I also LOVED the character Alexa! I would love a book featuring Alexa!
The book did have those difficult moments in it, and I teared up in several places while reading.
[Top]