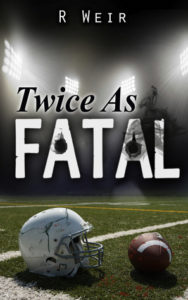 Author: R. Weir
232 Pages in Kindle
Published: May 29, 2015
Dates Read: October 11-20, 2016
My Rating: 4 Stars
Book Summary from Amazon:
Twice the business, twice the danger and Twice as Fatal. PI Jarvis Mann has two cases he is working, making his professional and personal life twice as difficult.
Ray Malone is a promising college football star whose career is derailed by injuries. When he disappears, close friend Jarvis is recruited by Ray's father to locate him. After tracking him down a video is sent of Ray with the warning of it going public, threatening his career and those that love him.
Case two has landlord Kate Tanner hiring Jarvis to gather evidence against her cheating, thieving husband so she can divorce him. As Jarvis investigates he learns of the husband's connection to a powerful man, with a dangerously perverted agenda that crosses into Kate's life with deadly consequences.
Across the Rocky Mountain Front Range Jarvis tries to balance both cases, each dragging him deeper into different sleazy underworlds, jeopardizing him, his clients and their families. With danger and death all around him, he somehow must rescue everyone before this fatal business claims the lives of all involved, his life and the one he is growing to love.
My Review:
Jarvis Mann is back! Twice as Fatal is the second full length novel by R. Weir. The first was a short story introduction to Jarvis. Twice as Fatal picks up where Tracking a Shadow concluded. This time Jarvis is working two cases:
1. His landlord Kate is convinced her husband is cheating on her and she wants evidence of that.
2. His friend Bill's son Ray has gone missing.
Of course the two cases end up being connected and R. Weir does a good job connecting them.
We are really getting to know Jarvis as a person now. He is a flawed man whose weakness is women. And he really likes looking at pretty women. He sees a lot of that in this book. It is a nice change to see that the protagonist of the novel is not perfect, as none of us are. We also see where certain things happen in the cases that make Jarvis uncomfortable. That was welcome to see as he hasn't become jaded in his job.
Jarvis' relationship with Melissa is continued, but is strained. She is working a lot of hours on a court case and is thinking about going to school to become a lawyer. You can't help but to root for Jarvis and Melissa to work out. He does become conflicted some in the book and you see he doesn't want to mess up again like he did previously. I was hoping Jarvis wouldn't make that same mistake again!
**A warning to potential readers**:
The book does take a turn of an adult nature. A "gentleman's club" is involved. There are a variety of sexual exploits including S&M and violence including torture. There is also a lot of profanity. It is graphic with some of those activities. This book is definitely not for the kids! If you have issues with those types of activities, you may want to stay away from this novel. Some of it was a little difficult for me to read.
Twice as Fatal could be read as a standalone novel, but you would not see everything connected from the previous novels. I would recommend reading the others before reading Twice as Fatal. I also recommend Twice as Fatal.
I do like Jarvis and look forward to reading the next in the series: Blood Brothers!
**I received a copy from R. Weir in exchange for an honest review.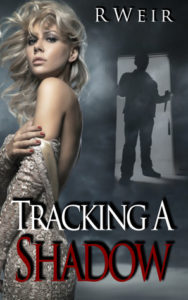 Author: R. Weir
213 Pages in Kindle
Published: August 14, 2014
Dates Read: August 21-29, 2016
My Rating: 4 Stars
Book Summary from Amazon:
Never knowing where his next case will come from, Private Detective Jarvis Mann is thrilled when his voicemail is lit up by the sexy tones of a lady looking to hire him. Successful business woman Emily White with girl next door looks, is certain someone is stalking her and wants Jarvis to track down the elusive shadow.
Even with three suspects, an ex-husband who lives to play softball, a sexist pig ex-employee and a mystery man who he encounters with painful results, Jarvis believes it's all in Emily's head until a killing in her home convinces him otherwise.
Further complicating matters a powerful business man and crime boss becomes involved muddying up the case, leaving Jarvis the prime suspect in the brutal beating of one of the possible stalkers, threatening to put his PI career on ice.
Navigating through each twist and turn in the case, and the affections of two desirable women both with an agenda, Jarvis uses dogged determination and razor sharp wit in Tracking a Shadow that moves across the Denver landscape with each shift in the sun.
---
My Review:
This is the second in the Jarvis Mann Series, but first full length novel. The first was a short story introduction to Jarvis Mann: (The Case of the Missing Bubblegum Card- reviewed here). In Tracking a Shadow, Jarvis receives a call from Emily who says that there is someone stalking her. Jarvis takes the case, but has doubts there actually is a stalker until something happens in her home. Jarvis comes up with three possible suspects, but still has some doubts. There is also a love interest that enters the picture for Jarvis.
I had my suspicions as to who may have been involved with Emily's stalkings, but I was wrong. I liked Jarvis, but the only issue I had was that he needed to think a little more with his mind and less with "Jarvis Jr". Sure, he can make that mistake once, but again after he knows he should not have done it in the first place?
There was also a twist 66% into the book that I did not see coming! I highly enjoy twists. And it explained why a certain character was involved, which I was wondering about.
The novel kept moving and never was slow for me. I really liked how R Weir referenced the Missing Bubblegum Card case towards the end. I also enjoyed how everything was wrapped up in the conclusion. I plan to read more Jarvis Mann novels!
**I received a copy of Tracking a Shadow from R Weir in exchange for an honest review.
[Top]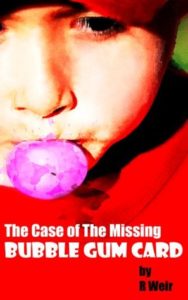 The Case of the Missing Bubble Gum Card: A Jarvis Mann Detective Short Story
Author: R Weir
27 Pages in Kindle
Published: April 3, 2014
Dates Read: July 14-18, 2016
My Rating: 5 Stars
Book Summary from Amazon:
Jarvis Mann was a Private Detective, whose business thrived on the mundane, paying the bills following cheating spouses, getting in the middle of messy divorces and working for the Fat Cat Insurance companies running down false insurance claims. But one day on his office steps a young man coaxing with the simple word "Please" convinces him to help on a Winter's Sunday afternoon to find a missing valuable Ernie Banks Rookie Bubble Gum Card. With a dry sense of humor he drives the Denver streets from door to door, friend to friend, until a clue leads to a surprising discovery, a young man's personal pain and his friends selfish act, teach Jarvis a life lesson that will shape him with new hope and resolve.
---
My Review:
There are some short stories that are good and some that are bad. They can leave you wanting more in a good way or in a bad way. They can be a complete story or frustrate you ad they leave you hanging. They can be a good introduction to a book. The Case of the Missing Bubblegum card was a complete short story. It is short- just 27 pages- but is completely satisfying. We are introduced to Jarvis Mann, a private investigator. A young man comes to him in search of his missing baseball card. Jarvis decided to help and the story is the search for the card with some unexpected results.
I got this short story on Amazon for free. I honestly did not have high expectations of the story (sometimes there is a reason why things are free….). I was surprised and highly enjoyed this short story and liked Jarvis Mann. It can definitely be read in one sitting.
I plan on checking out the next book in the series to see how a full length novel plays out. That next novel is Tracking a shadow. And if I like it I may check out the rest of the series.
I highly recommend this short story!! In this short story I already like Jarvis Mann, much as I like Cormoran Strike in Robert Galbraith's novels.
---
***I will be reading the next book in the series( Tracking a Shadow) very soon as R Weir sent it to me. Thank you R Weir!
[Top]