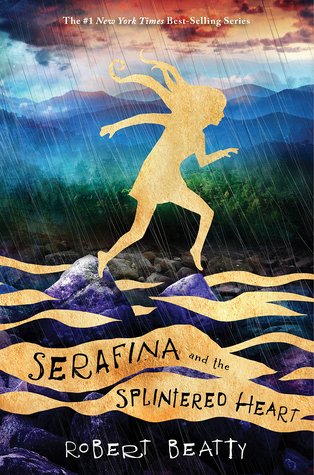 Author: Robert Beatty
358 pages in Hardback
Published: July 3, 2017
Reviewed By: Kim
Kim's Rating: 5 Stars
Description from Amazon:
In the highly-anticipated next installment of the Serafina series, Serafina must confront the darkest threat she's ever encountered at Biltmore Estate. She knows she can face anything with her best friend and closest ally, Braeden Vanderbilt, by her side. But when a sinister force tears them apart, Serafina scrambles to uncover the mystery of her most formidable challenge yet…and about herself and the destiny that awaits her.
Kim's Review:
This is the third book in the Serafina series. Serafina is the Chief Rat Catcher and Guardian of the Biltmore House in Asheville, NC. After rescuing the children from the Black Cloak in the first book, and protecting the estate from the revenge of the Old Man of the Forest and his Twisted Staff in the second book, Serafina finds herself literally six feet under. She digs herself out of her own grave and finds that everything has changed. Biltmore, once again, is under attack. But can Serafina help, when she is so isolated from her friends? Braeden has been wounded and Waysa has been spending his time chasing a strange creature through the woods. Storm clouds are gathering, floodwaters are rising, and Serafina feels nothing but powerless and alone.
Ok, writing a summary for this book was torture! I hate to sound dramatic, but you have no idea how much more I wanted to write, but couldn't because I didn't want to give anything away! This book is full of surprises and plot twists and I was this close to just copying the summary written on the book jacket. If you haven't read the first two books in this series, then you need to finish up whatever book you are reading now, and then go out and pick up this series. Serafina and Braeden and Waysa and Mr. and Mrs. Vanderbilt and Pa and Gideon and Cedric have all become such good friends. Watching Serafina and Braeden grow and mature has been a source of such pleasure and fun for me. I don't normally see book characters as real friends, but I couldn't help but feel that about these people. I used to visit the Biltmore House many times with my parents as a kid, and, unfortunately, I never appreciated it the way I should have. My snobbery got even worse when I began to identify as a preservationist, rather than a restorationist, in college. But after several years of real life and more growing up, I admitted to my husband, who has refused to let me live it down, that I was being unfair to the Biltmore House. Just because something has been so well preserved that it looks like it was restored, does not make it any less important than those sites that are being preserved with what little remains. I took my husband to the Biltmore House about 2 years ago, since he had never been before, and I was newly enchanted! As a kid, it was fun to dream about living in a house like that, but as an adult, my imagination has grown to include historical perspective. And considering that both my husband and I developed a crush on George Vanderbilt after looking at his portrait and learning of the amazing, well-rounded, dapper gentleman that he was . . . don't judge, ok! I can't tell if it was reading these books that brought such reality to the Vanderbilts and their house, or if it was visiting Biltmore that drew me so close to Serafina and her story. All I can say is, Robert Beatty captured my imagination in ways that many other books never have. I was truly terrified after reading about the Black Cloak. I was immersed in the history of Biltmore and the Vanderbilts in the Twisted Staff. I grew to love Serafina and Braeden as friends and found myself so proud of how brave and loyal they are to each other and the ones they love in the Splintered Heart. Please read these books. If you have kids, read this series to them. Give these books to the tweens and teens that you know. Go to Biltmore. See the beautiful estate. Drive through the Smokey Mountains. Feel the love that Serafina had for her home. I promise you that you will not be disappointed. And on a personal note, this book spoke to me as someone who has the dirt of NC in her blood. My family owns a tobacco farm in La Grange, NC that has been in our family since before the Revolutionary War. I wish I could put into words how much Biltmore and Serfina's and the Vanderbilts' love of their home affected me. There's something about the land itself that just inspires. I can physically feel it when I step foot on my family's land. At the risk of sounding even more dramatic, I can feel my blood singing. Mr. Beatty captured that in these books. You can feel the physical love of the land, from the mountain people, from Serafina, from George Vanderbilt. When you go to visit the estate, even if you have no connection to it, you will feel it. There are few places in this world to which I feel such a strong physical connection. The Biltmore Estate is one of those places. Maybe that's why I love this series so much. Maybe that's why I have written more in this review than I have for any other book that I've read. If I could convey this physical feeling to you, then I would. But the best thing I can do for you is to beg you to read this book, to beg you to go visit Biltmore. And thank you, Mr. Beatty for your wonderful books and I can't wait to read more of your books!
A book signing where I got to meet Mr. Beatty himself!: