Salt to the Sea
Author: Ruta Sepetys
Published: February 2, 2016
393 Pages
Reviewed By: Kim
Kim's Rating: 4 stars
Book Description:
While the Titanic and Lusitania are both well-documented disasters, the single greatest tragedy in maritime history is the little-known January 30, 1945 sinking in the Baltic Sea by a Soviet submarine of the Wilhelm Gustloff, a German cruise liner that was supposed to ferry wartime personnel and refugees to safety from the advancing Red Army. The ship was overcrowded with more than 10,500 passengers — the intended capacity was approximately 1,800 — and more than 9,000 people, including 5,000 children, lost their lives.
Sepetys crafts four fictionalized but historically accurate voices to convey the real-life tragedy. Joana, a Lithuanian with nursing experience; Florian, a Prussian soldier fleeing the Nazis with stolen treasure; and Emilia, a Polish girl close to the end of her pregnancy, converge on their escape journeys as Russian troops advance; each will eventually meet Albert, a Nazi peon with delusions of grandeur, assigned to the Gustloff decks.
Kim's Review:
I have a love/hate relationship with Ruta. She's such a great story teller, and I think her works should be on every history teacher's shelf as a great educational resource. I love her characters and she loves picking slightly obscure events within bigger, more famous circumstances. But she also loves to let stories hang. At the end, they just stop abruptly, but then time races forward and a little more info is given before the book just ends. There's no real resolution and the "future" info is given with no real context. Why do it, Ruta????? We want more and you refuse to ever give it to us!!!!
Salt to the Sea has such wonderful characters that you end up caring about and rooting for and getting so excited about. The story of the Wilhelm Gustloff is a little known chapter of WW2; I had never heard of it, and I couldn't wait to learn something new. Then everything just stops. She then gives just enough to "end" the story without "stopping" completely . . . But it's not enough! What happened between 1945 and 1969? What happened with the Christensens that Emilia made that big of an impact? It's just so incomplete and I've really never been sadder about the ending of a book! Every teen needs to read this book because they will learn a lot from it. But, please, Ruta!! Please stop doing this to us!!
Purchase Links:
Amazon US
Amazon UK
Author: Ruta Sepetys
To Be Published: October 1, 2019
512 Pages
Reviewed By: Kim
Kim's Rating: 4 stars
Book Description:
Madrid, 1957:
Under the fascist dictatorship of General Francisco Franco, Spain is hiding a dark secret. Meanwhile, tourists and foreign businessmen flood into Spain under the welcoming guise of sunshine and wine. Among them is eighteen-year-old Daniel Matheson, the son of a Texas oil tycoon, who arrives in Madrid with his parents hoping to connect with the country of his mother's birth through the lens of his camera.
Photography–and fate–introduce him to Ana, whose family's interweaving obstacles reveal the lingering grasp of the Spanish Civil War–as well as chilling definitions of fortune and fear. Daniel's photographs leave him with uncomfortable questions amidst shadows of danger. He is backed into a corner of decisions to protect those he loves. Lives and hearts collide, revealing an incredibly dark side to the sunny Spanish city.
Kim's Review:
Ok so first off, I love Sepetys' books. They're amazing and she's one the authors that I will pick up no matter what the book is about. But I'm gonna start with my one criticism that applies to multiple books. The endings frustrate the crap outta me! I'm learning to accept open endings that could go in any direction and could be interpreted and imagined in a myriad of ways. However, with Sepetys' stories, I want to know more! She always seems to completely draw me into the stories and the characters' lives and I get so involved and want to know as much as possible, but then she just cuts the story off. It feels like there's so much more of the story, but she just refuses to give us the info. That is honestly my only criticism and I'll admit it's a big one.
However, up until the endings, the stories are all fantastic. This book is no different. The setting is stunning and I now officially want to go to Spain and explore as much as possible. She captures the fear and tension of Franco's Spain and shows what true fascism looks like. She didn't pull any punches and I appreciated the history. The characters were all likable and the twists scattered throughout were believable and realistic. I'll admit that I found this book weeks before the release date at a bookstore and I'm so glad I did! It's a beautiful book and I recommend it to pretty much everybody!
Pre-order Links:
Amazon US
Amazon UK
[Top]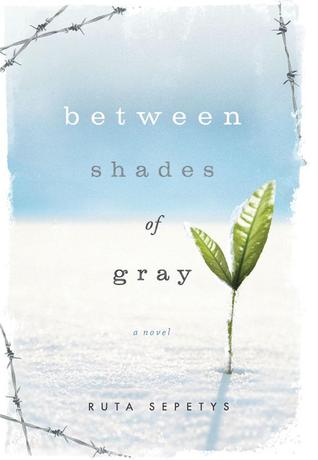 Author: Ruta Sepetys
344 Pages
Published: March 22, 2011
Reviewed By: Kim
Kim's Rating: 4 Stars
Description from Goodreads:
Lina is just like any other fifteen-year-old Lithuanian girl in 1941. She paints, she draws, she gets crushes on boys. Until one night when Soviet officers barge into her home, tearing her family from the comfortable life they've known. Separated from her father, forced onto a crowded and dirty train car, Lina, her mother, and her young brother slowly make their way north, crossing the Arctic Circle, to a work camp in the coldest reaches of Siberia. Here they are forced, under Stalin's orders, to dig for beets and fight for their lives under the cruelest of conditions.
Lina finds solace in her art, meticulously–and at great risk–documenting events by drawing, hoping these messages will make their way to her father's prison camp to let him know they are still alive. It is a long and harrowing journey, spanning years and covering 6,500 miles, but it is through incredible strength, love, and hope that Lina ultimately survives. Between Shades of Gray is a novel that will steal your breath and capture your heart.
Kim's Review:
Between Shades of Gray follows the journey of Lina Vilkas after the arrest of her family by the NVKD in 1941. Her mother, her brother, Jonas, and Lina are taken to the train station and put on a train bound for who knows where. All the Vilkas can think is that their father is not with them. They spend six weeks on the train rumbling through Soviet Russia. Hunger, thirst, lice, and the smell of filth became part of their daily lives. The Lithuanians in the train get to know one another, some encouraging friends, some griping realists. Lina meets Andrius, the boy who becomes her rock throughout most of her time in Siberia. After disembarking at the Altai Labor Camp, Lina and her family begin to adjust to life under Soviet rule. Doing everything they can to survive, they try to hold on to their compassion and humanity, despite the cruelty of their captors. After nearly a year in Altai, the family is moved deeper into the frozen tundra of primitive Russia. They meet with their hardest struggles during this time. Sickness, heartbreak, freezing polar night. Through all the pain, Lina realizes just how gray life can be.
I gave this book 4 stars, because I love the story and the characters. I became engrossed in the story, in the fact that Lina, Jonas, and Andrius never seem to lose hope. But dang!! I closed the book and wanted to throw it across the room! Years of their lives, lives that I had become invested in, weren't there! Nothing! There's a general piece of information that is given, but no details. No weddings, no journeys back, no reunions, no nothing! I hurts my heart! I want to write to Ruta and ask her to write a sequel, because I cannot live on such a lack of detail.
I absolutely recommend this book. In fact, I recommend this book to every teenager alive! One thing that struck me was how little I have to complain about. I have food on my table every day. I have a roof over my head. I live in a country where any ideas, any opinions are allowed and encouraged. And then, there's the gray in this life. Life is not black and white. I believe there are absolutes, but that does not mean that I refuse to see the gray, the complications. In this book, survival could only be found in those shades of gray. And don't forget the beauty. Lina, as an artist, never lost her eye for the beauty that could be found in all the pain and hardship. This book showed the world in all its cruelty, its beauty, and its many shades.
[Top]