Author: Ruth Ware
Published: May 29, 2018
Audiobook
Reviewed By: Jessica
Dates Read: July 2-20, 2018
Jessica's Rating: 3 stars
Book Description:
On a day that begins like any other, Hal receives a mysterious letter bequeathing her a substantial inheritance. She realizes very quickly that the letter was sent to the wrong person—but also that the cold-reading skills she's honed as a tarot card reader might help her claim the money.
Soon, Hal finds herself at the funeral of the deceased…where it dawns on her that there is something very, very wrong about this strange situation and the inheritance at the centre of it.
Jessica's Review:
The premise of Mrs. Westaway had me intrigued and I could not wait to read it!  I was able to get it on audio from my library.  There is nothing wrong with Ware's writing, in fact I love it, but I just did not connect with Hal. She is dealing with hard times financially and once she gets this letter she plans on conning the family as she is not the intended recipient of the inheritance. She shows up and then things just get out of hand. "Don't Lie!" should be the moral here.
It is a character driven novel with a gothic feel to it. There are many mysteries occurring throughout the novel.  What kept me reading was that I wanted to know what was going to ultimately happen.  When the twists occurred, I didn't really feel anything, due to my lack of connection with Hal.  If I had connected with Hal I am sure I would have loved this novel. When it was over I did not really know how to feel: The mysteries were solved, but I still am not sure how I feel about the direction taken.
Imogene Church has narrated all of Ware's novels and I love her! She narrates the novels wonderfully.  My favorite Ware novel is The Woman in Cabin 10.  All of her novels are character driven, so be prepared for a slow moving novel (Which I do not mean in a negative way) all the way up to the conclusion.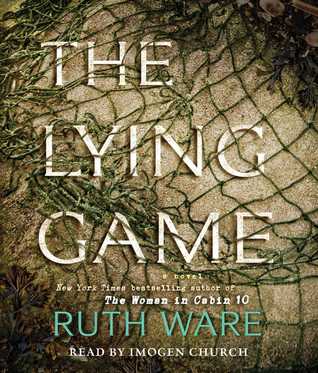 Author: Ruth Ware
Published: July 25, 2017
Audiobook
Reviewed By: Jessica
Dates Read: September 20- October 8, 2017
Jessica's Rating: 3 stars
Book Description from Amazon:
From the instant New York Times bestselling author of blockbuster thrillers In a Dark, Dark Wood and The Woman in Cabin 10 comes Ruth Ware's chilling new novel, The Lying Game.
On a cool June morning, a woman is walking her dog in the idyllic coastal village of Salten along a tidal estuary known as the Reach. Before she can stop him, the dog charges into the water to retrieve what first appears to be a wayward stick, but to her horror, turns out to be something much more sinister…
The next morning, three women in and around London—Fatima, Thea, and Isabel—receive the text they had always hoped would NEVER come, from the fourth in their formerly inseparable clique, Kate, that says only, "I need you."
The four girls were best friends at Salten, a second rate boarding school set near the cliffs of the English Channel. Each different in their own way, the four became inseparable and were notorious for playing the Lying Game, telling lies at every turn to both fellow boarders and faculty, with varying states of serious and flippant nature that were disturbing enough to ensure that everyone steered clear of them. The myriad and complicated rules of the game are strict: no lying to each other—ever. Bail on the lie when it becomes clear it is about to be found out. But their little game had consequences, and the girls were all expelled in their final year of school under mysterious circumstances surrounding the death of the school's eccentric art teacher, Ambrose (who also happens to be Kate's father).
Atmospheric, twisty, and with just the right amount of chill that will keep you wrong-footed—which has now become Ruth Ware's signature style—The Lying Game is sure to be her next big bestseller.
Jessica's Review:
I have enjoyed Ruth Ware's previous novels, my favorite of hers being The Woman in Cabin 10.  The Lying Game just wasn't for me. It is about four girls who become friends and they play 'The Lying Game'. There are five rules to the game:
Tell a lie
Stick to your story
Don't get caught
Never lie to each other
Know when to stop lying
Books with unreliable narrators are hit-or-miss with me and the premise of the novel deals with unreliability: lying. Therefore, I knew going in that it may be hit-or-miss for me, but having read the book description and also enjoying Ware's other novels had me wanting to read this one.
Isa is our narrator and she goes between the past and present.  She has lost contact with her friends until Kate sends them all a text saying "I need you". The other women drop what they are doing and rush to help their friend Kate out. They all share a secret, but has one of them been breaking their own rules for seventeen years?
Over the course of the novel we learn what happened in the past. In the present Isa is a new mother, her daughter Freya is constantly with her and Isa's only concern.
There was promise with The Lying Game. It is a slow burning, character driven novel that is well written. At times it seemed too long for me with too much narrative. I liked Fatima and wanted more of her in the novel. Even though I was not fully involved in the story, I wanted to know what was going to happen, but when it was over I did not feel anything.  Again, there is nothing wrong with Ware's writing; this novel was just not for me. There is also a lot of foul language in The Lying Game. This doesn't usually bother me, but I just got tired of hearing the 'f' word so many times.   I will continue to read Ware's future novels and I do recommend The Woman in Cabin 10. Imogene Church has narrated all of Ware's novels (I have listened to all of them) and she is perfect! I really enjoy her narrations even though my husband teases me by calling them "tea and crumpets" books due to Church's accent!  LOL
[Top]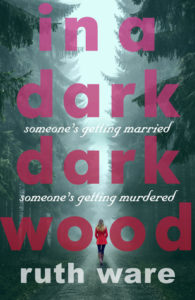 Author: Ruth Ware
AUDIOBOOK
Published: 8/04/2015
Dates Read: December 12-26, 2016
My Rating: 2 Stars
Book Summary from Amazon:
What should be a cozy and fun-filled weekend deep in the English countryside takes a sinister turn in Ruth Ware's suspenseful, compulsive, and darkly twisted psychological thriller.
Leonora, known to some as Lee and others as Nora, is a reclusive crime writer, unwilling to leave her "nest" of an apartment unless it is absolutely necessary. When a friend she hasn't seen or spoken to in years unexpectedly invites Nora (Lee?) to a weekend away in an eerie glass house deep in the English countryside, she reluctantly agrees to make the trip. Forty-eight hours later, she wakes up in a hospital bed injured but alive, with the knowledge that someone is dead. Wondering not "what happened?" but "what have I done?", Nora (Lee?) tries to piece together the events of the past weekend. Working to uncover secrets, reveal motives, and find answers, Nora (Lee?) must revisit parts of herself that she would much rather leave buried where they belong: in the past.
My Review:
Leonora (Lee/Nora- I will reference her as Nora in this review) is a 26 year old crime writer. One day she gets an email inviting her to a Hen (bachelorette) party for her old friend Clare. She hasn't seen Clare in ten years and wonders why she was even invited to the party since it has been so long since they have seen each other and when she wasn't even invited to the wedding. After debating with herself she decides to attend. ( I would wonder the same thing. Why would someone I haven't talked to in ten years invite me to her party? More than likely I would not go. ) Things go horribly wrong at the party and forty-eight hours later she awakens at the hospital. She has no memory of what happened but overhears a conversation and knows someone is dead. Nora becomes determined to find out what happened and who is dead?
The book goes back and forth from the hospital and the hen party. While at the party, Nora discovers who Clare is marrying and I will not say who he is, but whom the groom is goes back to issues they had in their teen years. The small group has several adventures leading up to the tragic evening.
This is yet another book with an unreliable narrator. At least the narrator is not an alcoholic, she just has amnesia. As she begins to remember that evening, you can't help but wonder are these memories accurate, or is Nora the murderer?
The beginning pulled me in, but in the end it just wasn't for me. Things that happened in her teen years are still affecting Nora and she kept focusing on it in the book. I can say I did not predict the ending of the book. I was a little shocked with the ending and the killer's motive. The killer's motive was a bit juvenile in itself.
I have read much better mysteries and worse mysteries. I would say skip In a Dark, Dark Wood and read Ruth Ware's second book, The Woman in Cabin 10 which I awarded four stars. The protagonist in Cabin 10 is also unreliable, but it is a much superior book than Dark, Dark Wood is. My review for Cabin 10 is here.
I do look forward to reading more from Ruth Ware.
[Top]