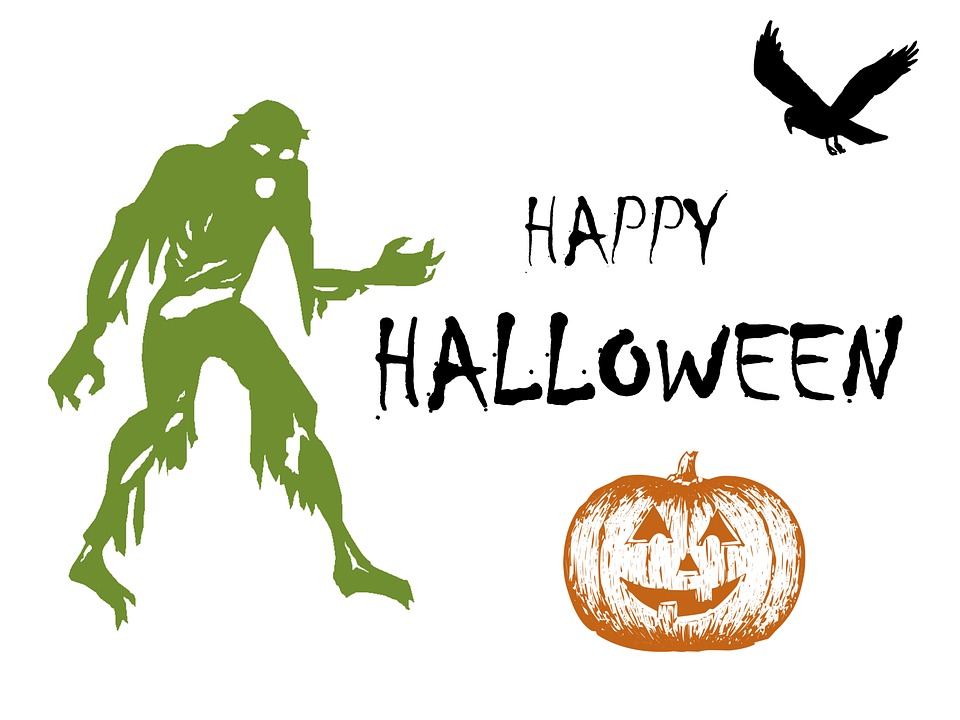 Happy Halloween!! It's a work day, so it won't be too fun or exciting. BUT… It's still Halloween!!!  Today Kim brings the perfect series for a Halloween review: The Asylum Series by Madeleine Roux!! She has the best "Bookstagram" picture: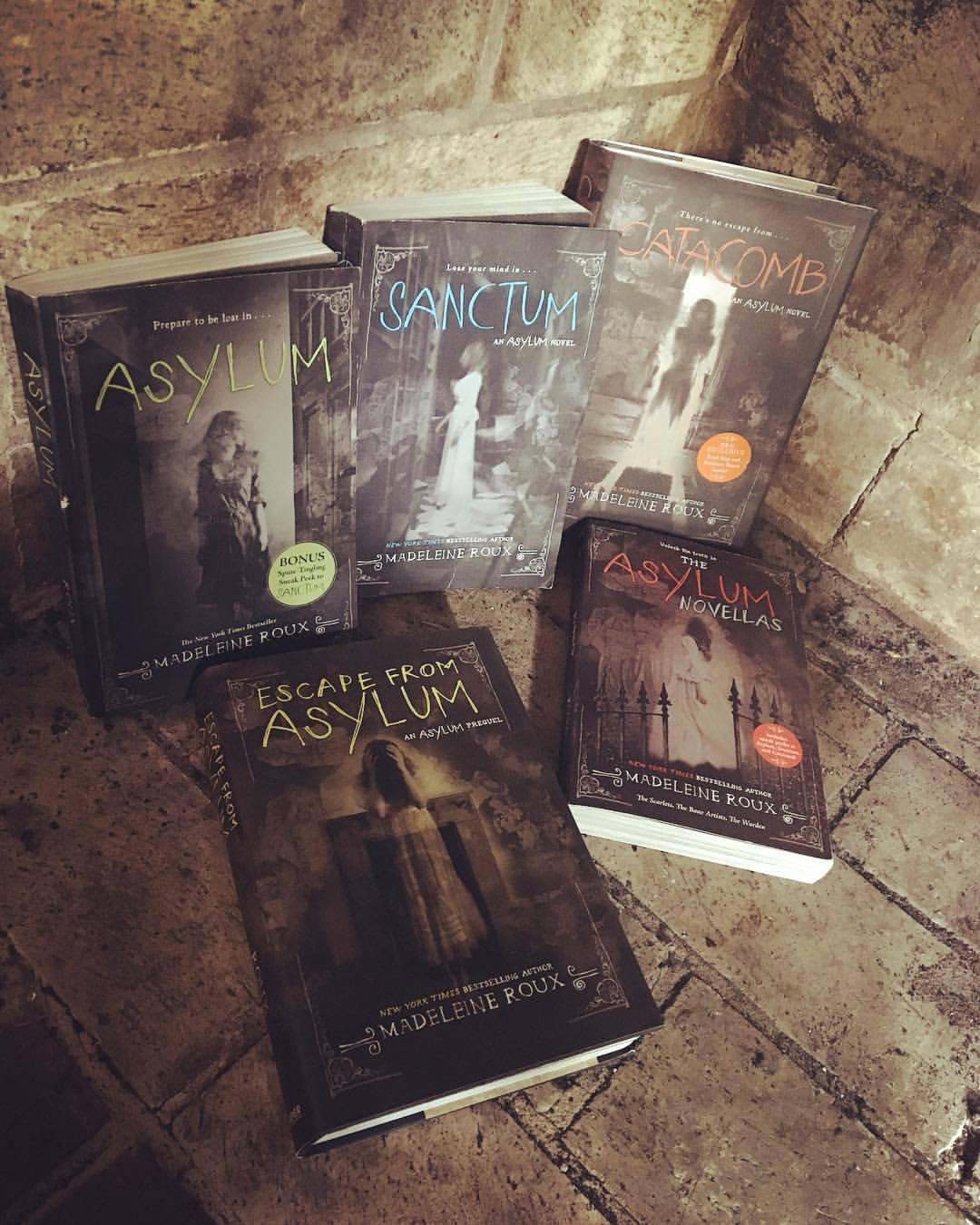 The Asylum Series
Author: Madeleine Roux
Books in the Series:
Asylum
Sanctum
Catacomb
The Asylum Novellas
Escape from Asylum (Prequel)
Reviewed By: Kim
Kim's rating of the series: 5 Stars
Description from Amazon:
Asylum: For sixteen-year-old Dan Crawford, the New Hampshire College Prep program is the chance of a lifetime. Except that when Dan arrives, he finds that the usual summer housing has been closed, forcing students to stay in the crumbling Brookline Dorm—formerly a psychiatric hospital. As Dan and his new friends Abby and Jordan start exploring Brookline's twisty halls and hidden basement, they uncover disturbing secrets about what really went on here . . . secrets that link Dan and his friends to the asylum's dark past. Because Brookline was no ordinary mental hospital, and there are some secrets that refuse to stay buried.
Sanctum: Dan, Abby, and Jordan remain traumatized by the summer they shared in the Brookline asylum. Much as they'd love to move on, many questions remain, and someone is determined to keep the terror alive, sending the teens photos of an old-timey carnival, with no note and no name. Forsaking their plan never to go back, the teens return to New Hampshire College under the guise of a weekend for prospective students, and there they realize that the carnival from the photos is not only real, it's here on campus, apparently for the first time in many years. Sneaking away from sample classes and college parties, Dan and his friends lead a tour of their own—one through the abandoned houses and hidden places of a surrounding town. Camford is hiding a terrible past, and the truth behind Dan's connection to the asylum's evil warden is more terrifying than Dan ever imagined.
Catacomb: Sometimes the past is better off buried. Senior year is finally over. After all they've been through, Dan, Abby, and Jordan are excited to take one last road trip together, and they're just not going to think about what will happen when the summer ends. But on their way to visit Jordan's uncle in New Orleans, the three friends notice that they're being followed . . . and photographed. Then Dan starts receiving messages from someone he didn't expect to hear from again—someone who died last Halloween. When the trio arrives in New Orleans and the strange occurrences only escalate, Dan is forced to accept that everything that has happened to him in the past year may not be a coincidence but fate—a fate that ties Dan to a group called the Bone Artists, who have a sinister fascination with notorious killers of the past. Now Dan's only hope is that he will make it out of his senior trip alive.
Asylum Novellas: In The Scarlets, Cal is drawn into New Hampshire College's twisted secret society—one with a deadly initiation. In The Bone Artists, Oliver tries to make a little extra money for college by working for a seedy organization that traffics in human bones. In The Warden, a young nurse starts a new job at the Brookline asylum but soon becomes suspicious of its unorthodox procedures. . . .
Escape from Asylum: The nightmare is just beginning. Ricky Desmond has been through this all before. If he could just get through to his mother, he could convince her that he doesn't belong at Brookline. From the man who thinks he can fly to the woman who killed her husband, the other patients are nothing like him; all he did was lose his temper just a little bit, just the once. But when Ricky is selected by the sinister Warden Crawford for a very special program—a program that the warden claims will not cure him but perfect him—Ricky realizes that he may not be able to wait for his mom a second longer. With the help of a sympathetic nurse and a fellow patient, Ricky needs to escape now. Set long before Dan, Abby, and Jordan ever walked the hallways of the Brookline asylum—back when it was still a functioning psych ward and not a dorm—Escape from Asylum is a mind-bending and scary installment in the Asylum series that can stand on its own for new readers or provide missing puzzle pieces for series fans.
Kim's Review:
I absolutely love this series! I first discovered it 2 years ago while on one of my many trips to Barnes and Noble. I had just finished Miss Peregrine's Home for Peculiar Children and I was looking for something new and still in with the dark and eerie atmosphere. If you've read any of my other reviews, then you know that I love asylums and mental hospitals. So, when I saw Asylum, with its creepy cover, I snatched it up and I've been hooked ever since. Asylum is exactly what you want in a scary read. It has everything: ghosts, an asylum, mystery, human experimentation, history, etc. I usually read it all in one sitting, it's an easy read but without being boring and oversimplified. I fell in love with Dan, Abby, and Jordan. I couldn't help but feel sorry for Dan. As someone whose family tree has been researched and listed out for the last 15 generations, I can understand how important knowing where you came from can be. Dan doesn't have that benefit. Abby, the passionate artist, is one of the most courageous characters I've read. She's scared, and has no problem admitting, but it doesn't stop her from doing what she believes is right. And Jordan . . . you love him, you hate him, you never forget him! He provides some much-needed comic relief. The story drew me in and I ended up finishing Asylum in one evening and went back to B&N the next day and picked up the next book.
Sanctum scared the living crap out of me! As with most sequels, this story isn't quite as strong as the first book, but the scary element wins out! I started reading it while Ivan was working a night shift, and I had to stop, get up, get dressed, and drive back to sit at the B&N Café just so I could keep reading. Yeah, it's that scary! And I'll admit that the first time I read it, I didn't get it. There were some details that were a bit murky to me. But reading it again this year, I finally got it. The story resolved itself in a way that makes sense. After reading the series several times, I'd say that this is the place to read the novellas.
I'm not a big novella person, but I really liked these. They did what novellas are supposed to do. They gave added info that made the stories clearer. The Scarlet and The Warden give much needed background info that clears up a lot of that murk that I described in Sanctum. And Escape from Asylum would have been confusing without reading The Warden first. The Bone Artists is actually a very good sedge way into Catacomb.
Catacomb, I feel, is the weakest book in the series. I understand that Roux felt that Dan and Abby and Jordan's story wasn't finished, but this book is where it stopped being about the asylum and started being about Dan. Part of me says that Catacomb should have been a stand-alone book, completely separate from the series. But the more I ponder it, the more I'm ok with it being in the series, just not the highlight of it. There's a very thin tie to Brookline Asylum and Warden Crawford, and that's what I didn't like. If she had connected this book to the other stories a little better, I think I would have liked this book better.
Though Escape from Asylum is considered a prequel, I would not suggest reading it as the first book in the series. There is a lot of info that will fly over your head if you don't have the foundation of Asylum, Sanctum, and the novellas. This one isn't quite as scary as the other books are. This one is the perfect asylum story. Crazy doctor who experiments on the patients, electroshock, hypnosis, rebellious nurses, patient conspiracy, some paranormal activity, etc. This one could also function as a stand-alone, even with those couple of details that are explained earlier in the series.
Overall, I love this series. It's the first one I bring up when someone asks me for a book suggestion. I absolutely recommend this to anyone wanting a scary, Halloween read, or for anyone looking for an interesting series.
Purchase Links:
Amazon US
Amazon UK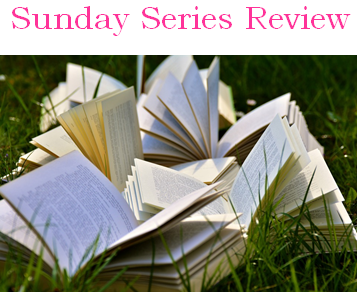 This week's Sunday post is different.  I'm not sure how often it will occur, but it is a Sunday Series Review. This will be where a book series is reviewed.  This time Kim has read The Red Queen Series by Victoria Aveyard and given her thoughts on it.  FYI, this series was not for her and she gives her honest and at times frustrated opinion. But here at Jessica's Reading Room, we give our honest opinions on the books we read, whether we like the books or not.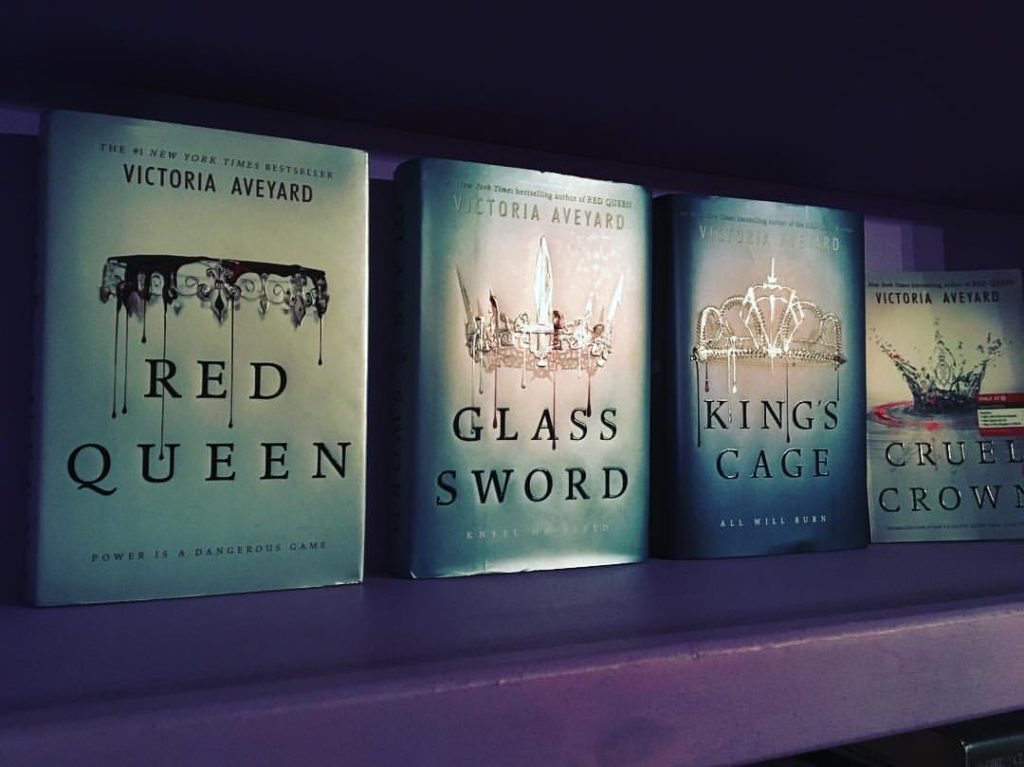 Author: Victoria Aveyard
Books in the Series:
Red Queen
Glass Sword
King's Cage
Novellas:
Cruel Crown
Queen's Song
Steel Scars
Reviewed By: Kim
Kim's rating of the series: 2 Stars
Description from Amazon:
Red Queen: Mare Barrow's world is divided by blood—those with common, Red blood serve the Silver-blooded elite, who are gifted with superhuman abilities. Mare is a Red, scraping by as a thief in a poor, rural village, until a twist of fate throws her in front of the Silver court. There, before the king, princes, and all the nobles, she discovers she has an ability of her own. To cover up this impossibility, the king forces her to play the role of a lost Silver princess, and betroths her to one of his own sons. As Mare is drawn further into the Silver world, she risks everything and uses her new position to help the Scarlet Guard—a growing Red rebellion—even as her heart tugs her in an impossible direction. One wrong move can lead to her death, but in the dangerous game she plays the only certainty is betrayal. This sweeping story of palace intrigue, class hierarchy, and deception will keep readers hurtling along, desperate to find out Mare's fate. Her honesty and determination, quick wit, and no-holds-barred attitude will surely make readers fall in love with her.
Glass Sword: Mare Barrow's blood is red—the color of common folk—but her Silver ability, the power to control lightning, has turned her into a weapon that the royal court tries to control. The crown calls her an impossibility, a fake, but as she makes her escape from Maven, the prince—the friend—who betrayed her, Mare uncovers something startling: she is not the only one of her kind. Pursued by Maven, now a vindictive king, Mare sets out to find and recruit other Red-and-Silver fighters to join in the struggle against her oppressors. But Mare finds herself on a deadly path, at risk of becoming exactly the kind of monster she is trying to defeat.Will she shatter under the weight of the lives that are the cost of rebellion? Or have treachery and betrayal hardened her forever?
King's Cage: Mare Barrow is a prisoner, powerless without her lightning, tormented by her lethal mistakes. She lives at the mercy of a boy she once loved, a boy made of lies and betrayal. Now a king, Maven Calore continues weaving his dead mother's web in an attempt to maintain control over his country—and his prisoner. As Mare bears the weight of Silent Stone in the palace, her once-ragtag band of newbloods and Reds continue organizing, training, and expanding. They prepare for war, no longer able to linger in the shadows. And Cal, the exiled prince with his own claim on Mare's heart, will stop at nothing to bring her back. When blood turns on blood, and ability on ability, there may be no one left to put out the fire—leaving Norta as Mare knows it to burn all the way down.
Cruel Crown: Queen Song
Queen Coriane, first wife of King Tiberias, keeps a secret diary—how else can she ensure that no one at the palace will use her thoughts against her? Coriane recounts her heady courtship with the crown prince, the birth of a new prince, Cal, and the potentially deadly challenges that lay ahead for her in royal life.
Steel Scars
Captain Farley exchanges coded transmissions with the resistance as she travels the land recruiting black market traders, smugglers, and extremists for her first attempt at an attack on the capital. She was raised to be strong, but planting the seeds of rebellion in Norta is a tougher job than expected—until she stumbles upon a connection that may prove to be the key to the entire operation: Mare Barrow.
Kim's Review:
Now as I've said in other reviews, I hate politicizing fiction. I don't care about the race, gender, or orientation of characters, if I like a character, then I like them. I don't want to be preached at by an author, even when they try to do it subtly. When I read Red Queen, I had just started in YA and I enjoyed it. But when I read it again to get back into the series and read all the way through it when King's Cage came out, I realized just how common it actually is. It's the exact same story as every other stereotypical YA book on the market. I loved Hunger Games, I mostly enjoyed The Selection . . . Red Queen is a combination of both and has basically the exact same story. Aveyard couldn't even find an original name for her main character! Mare . . . like America, nicknamed Mare, in The Selection. She even threw in a love triangle, like every other YA story. I then moved on to Glass Sword and got bored. It was just an average book. It faded into the background and I honestly barely remember what was in it. But then I read King's Cage. There were only 2 things that I felt while reading it: boredom and annoyance. I was bored during the hundreds of pages of Mare sitting in a literal cage bemoaning her life and her circumstances and whether she loved Cal or the evil Maven. "Cuz yeah, Maven is evil, but I can't seem to get him out of my head, even though he's really, really evil, I think I may still love him! But he's using his armies to fight against us, but I think I may still love him!"
Then, Aveyard started in with the politicizing. She started out with a Hillary Clinton quote, which hey, you're allowed to have your opinion and I would have just breezed over it with a slight eye roll, except for one thing. She didn't even credit Hillary Clinton, she credited HRC . . . how cowardly! If you can't confidently credit a quote, then what does that say about you, being too cowardly, or about the person you're quoting? Then throughout the whole book, the characters whined about having to fight, about having to place nice with others, about trying to identify with the enemy, about how fighting makes them just as evil as the enemy! I got so mad, Ivan(my husband) looked at me and asked what was wrong! And I gave him an earful!
Aveyard's pathetic "philosophizing" combined with her obvious loathing of anyone in uniform killed any sense of plot that book could have had! She at least had the whining balanced out with action in Glass Sword, but not in Kings Cage!! This book was nothing but whining and bellyaching instead of understanding what true sacrifice really is. I will not read another book by Victoria Aveyard because of her pandering politicizing of fiction! And the end?? ****Ok spoiler alert, asterisks mark the end where it's safe to start reading again. My gosh, Mare!! Why don't you quit being so dang self-centered and see what Cal could do for Reds, Silvers, and Newbloods alike, on the throne!! This isn't all about you! Cal is in love with a Red so you don't think just maybe he'd be open to changing the world for the better? But no, all you can think about is yourself! Give me a break!**** 
I won't talk all about my annoyance with the acknowledgement section because I didn't have to read it, but there's lots of obvious and self-righteous politicizing. Basically, starting in Glass Sword, all I thought was, "when is this series going to end? I can't take any more boredom. I can't take any more annoyance. Gosh! Be over already!" When I finally finished, I handed the books to Ivan and said, "Here, you can go ahead and throw these out." I have NEVER thrown out a book. I am absolutely opposed to burning or disposing of books. But I, the ultimate book nerd and preservationist, wanted to throw this series straight into the dumpster. I ended up leaving them on my "Read" shelf and will keep them there until December 31 at midnight, then I will through them in the donation pile because I will never pick them up again. I know not everyone agrees with me politically, and I completely understand and respect that. So, I want to make sure to convey that these books are boring with a capital B. Even the novellas weren't that great! Queen's Song was the only one that I appreciated because it gave a little historical context on Cal's mother. I would not recommend this series to anyone.
[Top]