Author: Sophie Kinsella
Published: February 5, 2019
448 Pages
Reviewed By: Jessica
Dates Read: February 22- March 5, 2019
Jessica's Rating: 2 stars
Book Description:
Fixie Farr has always lived by her father's motto: "Family first." But since her dad passed away, leaving his charming housewares store in the hands of his wife and children, Fixie spends all her time picking up the slack from her siblings instead of striking out on her own. The way Fixie sees it, if she doesn't take care of her father's legacy, who will? It's simply not in her nature to say no to people.
So when a handsome stranger in a coffee shop asks her to watch his laptop for a moment, Fixie not only agrees—she ends up saving it from certain disaster. Turns out the computer's owner is an investment manager. To thank Fixie for her quick thinking, Sebastian scribbles an IOU on a coffee sleeve and attaches his business card. But Fixie laughs it off—she'd never actually claim an IOU from a stranger. Would she?
Then Fixie's childhood crush, Ryan, comes back into her life and his lack of a profession pushes all of Fixie's buttons. She wants nothing for herself—but she'd love Seb to give Ryan a job. And Seb agrees, until the tables are turned once more and a new series of IOUs between Seb and Fixie—from small favors to life-changing moments—ensues. Soon Fixie, Ms. Fixit for everyone else, is torn between her family and the life she really wants. Does she have the courage to take a stand? Will she finally grab the life, and love, she really wants?
Jessica's Review:
I adore Sophie Kinsella. In fact, it was her book, Can You Keep a Secret?  That got me reading again. Unfortunately the last couple of her books have not been for me.
The premise of I Owe You One had me intrigued, but the delivery failed.  For a start, I did not connect with the characters at all. Fixie's name did not work for me and she constantly let everyone walk all over her.  Her siblings were very annoying and I did not like Ryan at all.  I suspected him of ill will.  All of the characters had issues of some kind, and the combination just did not work. 
Yes, the scene where the 'certain disaster' where Fixie saves the laptop is hilarious and left a lot of promise for the novel. This scene is classic Kinsella.   Despite I Owe You One not being for me, I will continue to read Kinsella novels, I just may need to stick to her older novels.  I think I might need to give Can You Keep a Secret a re-read this year. 
Special thanks to NetGalley and the publisher  for granting me a copy to read and review. I wish I could have given it a favorable review.
Author: Sophie Kinsella
To Be Published: Tomorrow, February 13, 2018
432 pages
Reviewed By: Jessica
Dates Read: January 25, 2018- February 5, 2018
Jessica's Rating: 3.5 stars
Book Description:
After ten years together, Sylvie and Dan have a comfortable home, fulfilling jobs, and beautiful twin girls, and they communicate so seamlessly they finish each other's sentences. They have a happy marriage and believe they know everything there is to know about each other. Until it's casually mentioned to them that they could be together for another sixty-eight years . . . and panic sets in.
They decide to bring surprises into their marriage to keep it fresh and fun. But in their pursuit of Project Surprise Me—from unexpected gifts to restaurant dates to sexy photo shoots—mishaps arise, with disastrous and comical results. Gradually, surprises turn to shocking truths. And when a scandal from the past is uncovered, they begin to wonder if they ever really knew each other at all.
With a colorful cast of eccentric characters, razor-sharp observations, and her signature wit and charm, Sophie Kinsella presents a humorous yet moving portrait of a marriage—its intricacies, comforts, and complications. Surprise Me reveals that hidden layers in a close relationship are often yet to be discovered.
Jessica's Review:
Sophie Kinsella is one of my 'go to' authors. In fact, her novel Can You Keep a Secret is the book that got me reading again.  It was laugh out loud funny.  So much so a coworker asked if she could borrow it.  Many thanks to my aunt for giving it to me all those years ago!
I have enjoyed most of Kinsella's books that I have read.  If you want an entertaining chick lit read, she is an author I recommend. Sadly, Surprise Me will not be a favorite. Surprise Me starts out promising, but failed the mark with me.  It starts out with our couple Sylvie and Dan(who have been married 10 years and have twin girls) finding out that they could live another 68 years together. Instead of joy and excitement that would be expected they have the opposite reaction: Panic.
They work on surprising each other in order to spice up the marriage. It becomes like a Bridget Jones or Becky Bloomwood type of novel with some hilarious results.   Then here come secrets and the novel takes on a more serious unexpected direction.  When I read a Kinsella novel I expect lighthearted fun, but this was not.  In the end everything is fine and the message about marriage is clear. There is also light hearted humor again at the end, but the middle just doesn't come across as a Kinsella novel.  It is not her worst novel, but it is far from the best. I will keep reading Kinsella and hope her next one is better  for me.
Thank you to the publisher for sending an e-arc via NetGalley for me to review.
Purchase Links:
Amazon US

Amazon UK
[Top]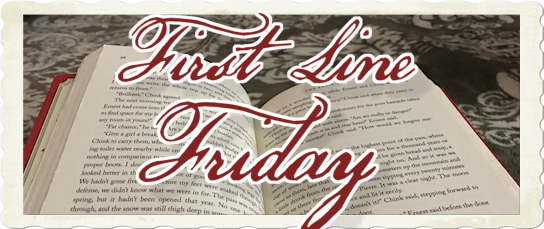 Today on First Line Friday is the book that got me reading again all those years ago. My aunt gave it to me and it literally had me laughing out loud! A coworker even asked if she could borrow it.  I need to revisit this book again!
Of course I have secrets.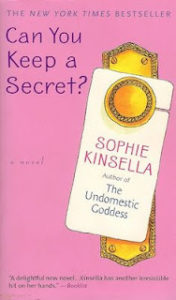 Meet Emma Corrigan, a young woman with a huge heart, an irrepressible spirit, and a few little secrets:
Secrets from her mother:
I lost my virginity in the spare bedroom with Danny Nussbaum while Mum and Dad were downstairs watching Ben-Hur.
Sammy the goldfish in my parents' kitchen is not the same goldfish that Mum gave me to look after when she and Dad were in Egypt.
Secrets from her boyfriend:
I weigh one hundred and twenty-eight pounds. Not one eighteen, like Connor thinks.
I've always thought Connor looks a bit like Ken. As in Barbie and Ken.
From her colleagues:
When Artemis really annoys me, I feed her plant orange juice. (Which is pretty much every day.) It was me who jammed the copier that time. In fact, all the times.
Secrets she wouldn't share with anyone in the world:
My G-string is hurting me.
I have no idea what NATO stands for. Or even what it is.
Until she spills them all to a handsome stranger on a plane. At least, she thought he was a stranger.
But come Monday morning, Emma's office is abuzz about the arrival of Jack Harper, the company's elusive CEO. Suddenly Emma is face-to-face with the stranger from the plane, a man who knows every single humiliating detail about her. Things couldn't possibly get worse—Until they do.
[Top]