Dead Serious: Breaking the Cycle of Teen Suicide
Author: Jane Mersky Leder
Published: January 23, 2018
210 Pages
Reviewed By: Jessica
Dates Read: February 1-10, 2019
Jessica's Rating: 4 stars
Book Description:
Are you under a lot of stress? Feeling too much pressure to get good grades? Trying to avoid social media because you're being bullied? Grappling with your sexual/gender identity? Feeling depressed—even suicidal?
What are the reasons why teens decide to take their own lives? What can be done to stop them? Through stories, studies and strategies, Dead Serious helps teens, parents and educators navigate the choppy waters of adolescence and provides tools that can help break the cycle of teen suicide.
Teen suicide is preventable.
Jessica's Review:
Suicide is a difficult subject to think about. The first edition of Dead Serious deals with teen suicide and was published in 1987, and now author Jane Leder has published a second edition.  Why a second edition now?  In the 30+ years that have passed our world has changed significantly: we all lived through 9/11 and terrorism, bullying is at an extreme, and there was no internet and social media. There is so much more that today's kids have to deal with that we did not.  And don't forget LGBTQ, there are so many variations on sexual preferences and gender identity that it seems impossible for one to keep up with.
Jane Leder is no stranger to suicide.  She has lost several family members to it, including a brother to whom this book is dedicated.  Dead Serious is written to teens and it does not talk down to them. It is also for adults and educators.  This is one that should be read by all teachers and be in school libraries. This should even be taught in class. 
Each story begins with a musical lyrics or similar.  There are candid stories throughout the book that are shared, and a variety of subjects that including bullying, and there are also LGBTQ definitions. Leder outdid herself with this second edition as you can see she worked with an abundance of research that includes useful information on where one can seek help from different organizations. 
Teen suicide is a major problem, but we can all work together to help stop it. Every life matters, you matter. You ARE worth it.
Dead Serious is highly recommended. Special thanks to the author Jane Leder  and her team for sending me a copy to read and review.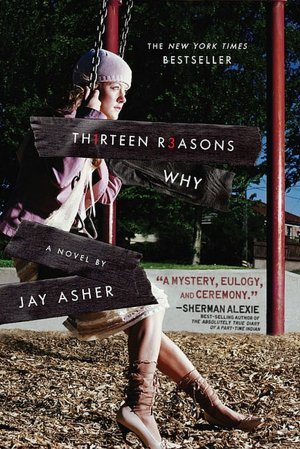 I reviewed Thirteen Reasons Why last year. My review for it is here. Now it is Kim's turn to review it.  We have very differing opinions on this one, which is what I love about book reviews.  One person can have one opinion and the next person have a totally different opinion! We all go through life with different experiences which affects how we feel about a book!

Author: Jay Asher
288 Pages
Published: October 18, 2007
Book Summary from Amazon:
You can't stop the future.
You can't rewind the past.
The only way to learn the secret . . . is to press play.
Clay Jensen returns home from school to find a strange package with his name on it lying on his porch. Inside he discovers several cassette tapes recorded by Hannah Baker—his classmate and crush—who committed suicide two weeks earlier. Hannah's voice tells him that there are thirteen reasons why she decided to end her life. Clay is one of them. If he listens, he'll find out why.
Clay spends the night crisscrossing his town with Hannah as his guide. He becomes a firsthand witness to Hannah's pain, and as he follows Hannah's recorded words throughout his town, what he discovers changes his life forever.
Kim's Rating: 4 Stars
Kim's Review:
I started out this book hating Hannah Baker. A typical selfish high school girl who refused to think about anything other than how life affected her. But my hate has digressed to a simple dislike, the way I dislike most teenagers in general. Because that's what this book is about: typical teenagers who think that life revolves around them. I was a teenager once and I spent 3 years teaching teenagers. I was bullied in junior high and high school, some of it aggressive, some of it passive. But I have no sympathy for Hannah, or for any of the characters in this book. That's life! Life isn't far, so get used to it! Hannah wasn't the only coward in this book, I'll admit that. Honestly the only 2 characters I liked were Clay and Mr. Porter. I understood Mr. Porter because I've been in his position. He's not completely off the hook, he probably should have probed a little more, but I refuse to blame him for Hannah's choice because that's not fair, just like life. It just amazes me how dramatic teenagers are! And looking back at how dramatic I was before real life kicked me in the butt! If Hannah thought high school boys making a big deal about her ass was a reason she should kill herself, well then she really never would have made it out in the real world! And she never actually said no. Of course the guy was wrong and a pig, but she didn't say no. What was he supposed to think when she didn't resist? He's a teenage jock! He thought she enjoyed it! And oh no! Her friends stopped hanging out with her! Do you know how many friends have come and gone in my life? And how many of them hurt me on their way out?
This is a book about a bunch of stupid teenagers. Nothing more, nothing less. And each generation of teenagers gets dumber and dumber. They are coddled, given their safe spaces, allowed to do whatever they want, never held to a high standard, and they're all idiots. Whatever happened to "growing up is hard"? My parents told me that. And suicide never once entered my mind in high school. I tell any teenager I know that high school is tough, growing up is tough, life is tough. Just hold your head up, take each problem as it comes, and enjoy the good times, because you'll have plenty of those too. Normally, I would ask, "where are her parents?", but in this case, all they really could have done was to tell Hannah that's she being overdramatic. Her suicide should never have happened because there was no real cause. Teenagers being teenagers. And if teenagers don't learn to deal with that kind of stupidity, you'll either have this situation or them growing up to be stupid adults.
I would never allow any kid I know to read this book, in fact, I wouldn't want most adults I know to read this book. This book teaches that teenagers are whiny, self-centered, and always looking for the easy way out. Nearly every situation in this book is one that we all face on a daily basis. Suicide shouldn't be a concept that anyone should even consider, let alone introducing it to a kid. I think this book was written for teachers, because I have no problem saying that teachers can never be too aware. Or parents, who never grew out of their teenage ways and try to take the easy way out by letting their kids raise themselves. I've seen too many of both groups. But I'll admit, I read this book in 24 hours because it intrigued me, it was written very well, and I liked the anticipation.
[Top]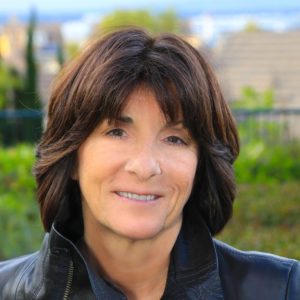 This is Kim Turrisi's first novel and is based off of her story as her sister committed suicide when Kim was fifteen.  The emotions are raw and real in Just a Normal Tuesday. It was released last week on May 2nd  and I feel everyone should read this novel. It truly touched me; so far this is my #1 read of the year. My review for Just A Normal Tuesday is here.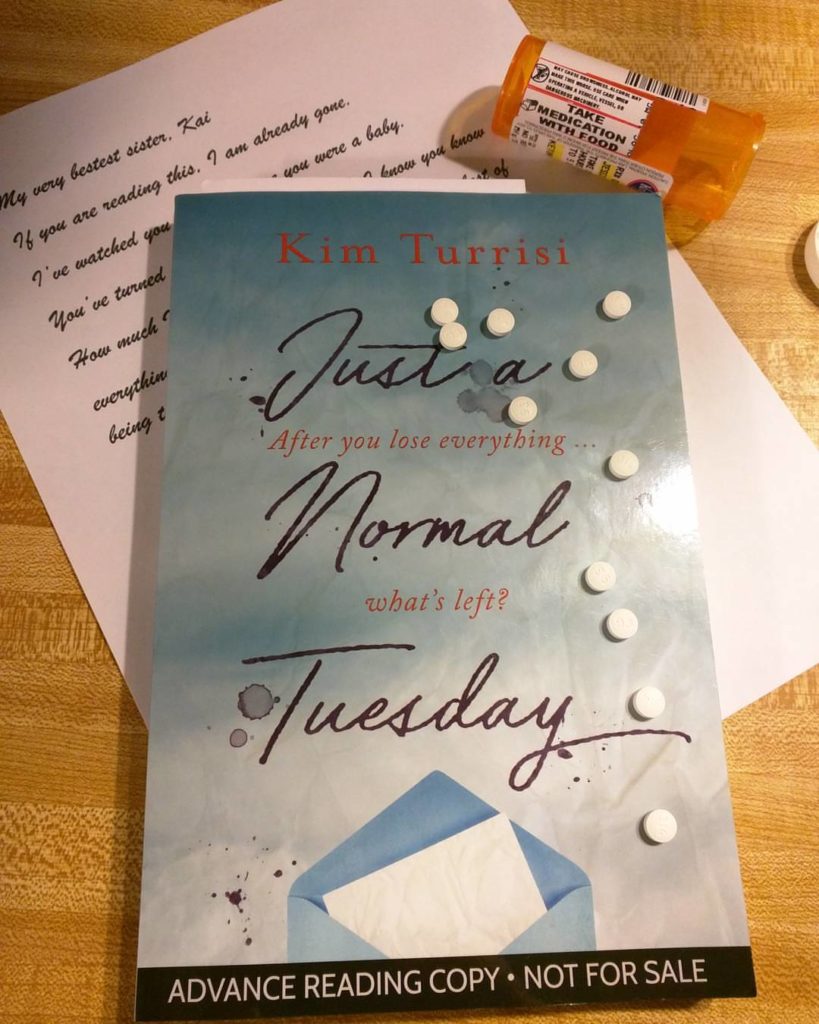 Buy Just a Normal Tuesday Now!
Amazon US
Amazon UK
JRR (Jessica's Reading Room):Tell us a little about yourself.
I'm an Air Force brat so I moved every two years. That alone helps me adapt to new situations fairly quickly. My love of music is from my father and my love of reading definitely from my mom and sister. Both read to me every day when I was younger. I was destined to be a book nerd and I'm okay with that. I went to college in Florida at Florida State University and I am a diehard Seminole fan.
JRR: I am a book nerd as well and proud of it. I have a problem and freely admit it! Did you always want to become an author?
I always wanted to be a writer. I wrote screenplays first then two web series. Working at the SCBWI(The Society of Children's Book Writers and Illustrators), I fell in love with young adult literature. I can't imagine doing anything else. If I'm not writing it, I'm reading it. There are so many incredible YA authors.
JRR: There really are so many good YA author and books out there, yours included! What does your writing process consist of?
I always, always write with music playing. I create a play list for the book I'm about to tackle then a play list for my protagonist. When I wrote Just a Normal Tuesday, several songs were on repeat while I wrote the really tough stuff. Lots of angst. I keep notebooks about each of my characters that I go back to as I outline my book. I like to know what they wear, what foods they like, habits they have, what they read and definitely what music they listen to.
JRR: That playlist and the notebooks helped when you wrote Just a Normal Tuesday since for me you really nailed all the emotions. What kind of advice can you give to aspiring authors? I know the journey to become published and can be a long and difficult one.
My best advice is to never give up. It is hard road but when it does happen, I promise that all of the rejections and revisions are worth it. Also, make sure you surround yourself with other writers and take their notes to heart. With Tuesday, I was so close to it, I needed other perspectives to stay on track. I'm grateful to all the people who read it and those who rejected it but gave me notes. It made this book so much better.
JRR: That's a good way to take the rejections; using the notes you were given to improve the book. What made you go the 'traditional route' for getting Just a Normal Tuesday published versus indie/self -publishing?
It was a goal I gave myself. There was no question that I would go the traditional route. In my every day job, I work closely with editors at the traditionally publishing companies so it was my comfort zone.
JRR: Where did the idea for Just a Normal Tuesday come from? Did you take your personal experiences to form Kai's character, especially when it came to the range of emotions she felt after her sister's suicide? Was Just a Normal Tuesday difficult to write or was it a kind of therapy and a way to get those emotions and feelings out?
Just a Normal Tuesday is based on what happened to me when I was fifteen. I fictionalized a portion of it but honestly, a lot of the emotions and events were spot on. I would say Kai and I shared the spiral of anger and despair. This was probably the hardest book I will ever write since it's so close to my truth. There were many dark days having to recall all that I went through at such a young age. It's also the first time I've talked about it since then.
I didn't get to go to Grief Camp at fifteen but in writing this book, I felt like I did all these years later. It was quite cathartic even when it felt like I was climbing Mt. Everest.
JRR: The emotions Kai experiences were so real and raw! At times I felt like I was hearing your story (which in a way we were) with the first half of the book. It felt like you were talking to me as I was reading.
Who do you hope your book reaches? I feel that everyone should read this book, especially those who lost someone at a young age. There is such a wide range of emotions the reader will experience as the book is read.
When I set out on this journey, my hope was that anyone feeling left behind by a loved one would see themselves in this book so they felt less alone and that it helps them find their path to healing. The stigma of suicide can be isolating especially if no one is talking about it. That's how it was for me.
Grief is a universal feeling. No matter how you lose a loved one, it's devastating. Suicide is especially crippling since it's sometimes so difficult to understand.
***Thank you so much for your time with this interview Kim!  I know you have been very busy with the launch of Just a Normal Tuesday, so this means a lot that you agreed to an interview at this time. Good luck with the book! I hope it reaches many people out there who need it.  It truly touched me and I hope everyone reads it.
If you are considering suicide please get help. There are many organizations that can help. You are worth it!
 The National Suicide Prevention Helpline
Open 24/7
1-800-273-8255
The Trevor Project (LGTBQ)
Open 24/7
1-866-488-7386
For those who have lost someone, here are some camps that can help:
Contact Kim:
Website
Facebook
Twitter @KimmyT22
Instagram @KimmyT22
[Top]