Her Husband's Mistake
Author: Daniel Hurst
Narrators:
Tamsin Kennard
Nathaniel Priestley
To Be Published: September 30, 2023
Audiobook: 5 Hours 36 minutes
Reviewed By: Jessica
Dates Listened To: September 18-19, 2023
Jessica's Rating: 4.5 stars
Audiobook Description:
A week in New York with my family should be the trip of a lifetime–yet I've been on edge the whole time because fifteen years ago, when we were living in this city, my husband did something that ripped our lives apart. I swore I would never come back, but he insisted. As we stroll along the Hudson River, drinking coffee in the sunshine, anyone would think we're the perfect family. But the truth is far more complicated.
Jessica's Review:
I am pasting the Goodreads book description for this review as the book's description everywhere else gives to much plot away for this short book!  This was also the book description I read, so I wasn't spoiled if I had read the book description elsewhere I would have been.
Jack and Lorna are from the UK originally and were living in New York until Jack did something and they suddenly left and returned to the UK with their young children. They vowed to never return until… Fast forward fifteen years with their children turning 18 and 21… big birthdays!!!  Guess what both kids want??? A trip to NYC!! Knowing their kids wouldn't stop mentioning a NYC trip Jack and Lorna decide to give that gift to them. And now we have this book and what happens!
Her Husband's Mistake is my second book by Daniel Hurst that I have listened to this year and I have enjoyed both. He is an author I will look out for! This one was very short coming in at 5.5 hours long and so it moves the entire time!  Get ready for a roller coaster of intensity with this one!
Jack and Lorna were not very likeable for me, but the kids were. So much happens so quickly it's a book you don't want to put down!  And it even went in a direction that I would not have guessed was going to happen! I was shocked: I actually had to relisten to that chapter when I got to a certain point in the audiobook!
The narrators did a good job with their narrations, I did like Tamsin Kennard's voice more than Nathaniel Priestley. 
Many thanks to the publisher Bookoutoure Audio for granting me an alc to listen to and review! I enjoyed this very quick listen!
The List
Author: Kiersten Modglin
Narrators:
Jennifer Jill Araya
David Bendena
Michael Crouch
First Published: April 3, 2019
To Be Published in Audio: August 22, 2023
Audiobook: 7 Hours 44 minutes
Reviewed By: Jessica
Dates Listened To: August 7-10, 2023
Jessica's Rating: 4 stars
Audiobook Description:
Ten years ago, the small town of Bates, South Carolina was changed forever with the appearance of a slip of paper:
Six names.
Six people set to die.
Six months later, they were gone. But the list maker was far from done with their town.
Like clockwork, new lists come out every six months. To keep their names off of them, the citizens go to extraordinary lengths and keep terrifying secrets.
Someone is controlling their town. But who? And, most importantly, why?
When Connor and Jordyn Atwood move to Bates, they see firsthand how far their new neighbors are willing to go to protect themselves. Will the Atwoods succumb to their newfound surroundings? Or will they fight to protect the town they now call their home?
With everything at stake and no one to trust, the Atwoods quickly learn the list maker has one important rule: do what you're told…or find your name on The List.
Jessica's Review:
The premise of this one sounded interesting and I thought it was going to be like an updated version of The Lottery, but it is not! You have to drop all believability with this one as it just isn't possible and then go along for the ride that is The List.
 It has been available in e-book and physical copies for a while, but is new to the audiobook format as of August 22nd, and I received an alc. Once I received it, I found out that there are multiple narrators with one of them being Michael Crouch; I got excited as he is one of the narrators I am on the lookout for! His narration was a smaller role, but all three did a fantastic job!  Jennifer Jill Araya gave us the voice of Jordyn and David Bendena also was fantastic as the villain!
Connor and Jordyn Atwood move to Bates not knowing about 'the list'.  Every 6 months a list comes out with six names on it… And those people die in the order of the list itself. Over time Jordyn becomes entangled in a web of 'What's going on', 'WHY is this happening', 'Why these names?' and, 'We must stop it!'. Other than that, I can't say much about the story.  The types of people on the list become apparent early on, and in others reviews the reviewer gives this away. But I do the most I can without giving spoilers in my reviews.  The particular persons on the list could also be a trigger warning for some.
I was pulled into the story and what was going to happen! I became frustrated why no one does anything or why don't people just leave? That gets answered.  The who and why are answered as well in the last act, and remember… It's just not plausible for this to happen in real life, so just go with it and enjoy the novel!
I really did enjoy this one. Many thanks to the publisher for granting me an alc to listen to and review! 
Purchase Links:
Amazon US
Amazon UK
[Top]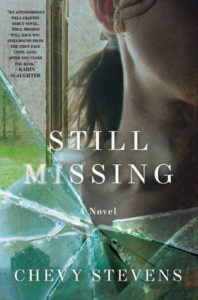 Still Missing
Author: Chevy Stevens
Listened to Audio Book
Published: July 6, 2010
Dates Read: January 10-23, 2013
My Rating: 4 Stars
Book Summary from Amazon:
On the day she was abducted, Annie O'Sullivan, a 32-year-old realtor, had three goals—sell a house, forget about a recent argument with her mother, and be on time for dinner with her ever-patient boyfriend. The open house is slow, but when her last visitor pulls up in a van as she's about to leave, Annie thinks it just might be her lucky day after all.
Interwoven with the story of the year Annie spent as the captive of a psychopath in a remote mountain cabin, which unfolds through sessions with her psychiatrist, is a second narrative recounting events following her escape—her struggle to piece her shattered life back together and the ongoing police investigation into the identity of her captor.
Still Missing is that rare debut find–a shocking, visceral, brutal and beautifully crafted debut novel.
---
My review written in January 2013:
I rarely write reviews for a book after I finish it. I listened to the audio book of Still Missing by Chevy Stevens. After I listened to the first few cds, I did not think I would be able to finish the book. She is very graphic in her writing and I could picture everything that was happening to Annie. And it was VERY TOUGH to listen to. That is the work of a talented author. And this is her first novel!!!! I am glad I finished it. It was a very good book!!! And I did not see the twist coming. Her writing blew me away, especially when I got to the last line. I would have given it five stars, but the language bothered me. I do get it that what happened to Annie did change her and that was why the language was like that. I would recommend this to people to read, as long as you can handle language and some VERY tough scenes while Annie was kidnapped.
*** Reading this review makes me want to go back and read the book again. It has been three years since I read it sometimes books are worth re-reading. This looks to be one of those! This time I will be prepared for the writing that I was not prepared for when I first read the book. Luckily, my local library does have the audiobook, so I will be listening to this book again soon!
[Top]