Author: Leslye Walton
Published: March 13, 2018
288 pages
Reviewed By: Kim
Kim's Rating: 4.5 stars
Book Description:
From the author of The Strange and Beautiful Sorrows of Ava Lavender comes a haunting maelstrom of magic and murder in the lush, moody Pacific Northwest.
When Rona Blackburn landed on Anathema Island more than a century ago, her otherworldly skills might have benefited friendlier neighbors. Guilt and fear instead led the island's original eight settlers to burn "the witch" out of her home. So Rona cursed them. Fast-forward one hundred–some years: All Nor Blackburn wants is to live an unremarkable teenage life. She has reason to hope: First, her supernatural powers, if they can be called that, are unexceptional. Second, her love life is nonexistent, which means she might escape the other perverse side effect of the matriarch's backfiring curse, too. But then a mysterious book comes out, promising to cast any spell for the right price. Nor senses a storm coming and is pretty sure she'll be smack in the eye of it.
In her second novel, Leslye Walton spins a dark, mesmerizing tale of a girl stumbling along the path toward self-acceptance and first love, even as the Price Guide's malevolent author — Nor's own mother — looms and threatens to strangle any hope for happiness.
Kim's Review:
I read The Strange and Beautiful Sorrows of Ava Lavender several years ago and I really enjoyed it! Plus, the cover is one of the most beautiful I've ever seen! So when I saw The Price Guide to the Occult, the cover jumped out at me and I had to get it. I actually liked it better than I did Ava Lavender! Price Guide was actually far more story-centric than Ava Lavender was.
I wanted so badly to find out what was going on that I barely put this book down. The history of the Blackburn family fascinated me. My inner historian (that's actually not so inner and incredibly easy to arouse) jumped up and started begging to learn more.
Nor was a likeable character, considering that she's a teenager who so desperately fights to be differing from what she is. I found myself feeling for her and rooting for her throughout the book. After finding out how horrible her mother is, I felt for her even more. Nor's grandmother, Judd, may be gruff and bristly, but she really cares for Nor and she became one of my favorite characters. I loved the setting that Walton created and she was able to conjure fantastical elements that still sounded believable.
The fern tattoos were creepy, yet beautiful and I even started considering getting a fern tattoo up my arm . . . ink is addicting, don't judge me! Overall, this story was interesting and unique and I like how I felt I had never read it before. I think this book is suited perfectly for older teens and honestly, it's a great one to give to both teens who love to read and to those who don't like reading. I think this would be a great book to help get them into reading.
Purchase Links:
Amazon US
Amazon UK
Author: Shea Ernshaw 
Published: March 6, 2018
308 pages
Reviewed By: Kim
Kim's Rating: 4 stars
Book Description:
Welcome to the cursed town of Sparrow…
Where, two centuries ago, three sisters were sentenced to death for witchery. Stones were tied to their ankles and they were drowned in the deep waters surrounding the town.
Now, for a brief time each summer, the sisters return, stealing the bodies of three weak-hearted girls so that they may seek their revenge, luring boys into the harbor and pulling them under. Like many locals, seventeen-year-old Penny Talbot has accepted the fate of the town. But this year, on the eve of the sisters' return, a boy named Bo Carter arrives; unaware of the danger he has just stumbled into.
Mistrust and lies spread quickly through the salty, rain-soaked streets. The townspeople turn against one another. Penny and Bo suspect each other of hiding secrets. And death comes swiftly to those who cannot resist the call of the sisters. But only Penny sees what others cannot. And she will be forced to choose: save Bo or save herself.
Kim's Review:
Another gorgeous cover . . . that shines!! It drew me in and then after reading the description, I wanted to read it! I ended up taking it to Italy and read it there. I did enjoy this book. There was a little bit of teenage idiocy that kept me from giving it 5 stars, but thankfully not enough to ruin the story.
I liked the historical factor. Certain areas of the northwest coast of the US just lend themselves to mystery and superstition and I find that fascinating! The setting was awesome! Lumiere Island sounds like a place that I'd love to hold up on for the entire summer with a full kitchen and several piles of books.
The Swan sisters are definitely not my favorite characters to ever be written. In fact, I like that they are considered the villains so I could hate them. They're slutty and nasty! Overall, it's a simple story, but original, and I liked who I was supposed to like, disliked who I was supposed to dislike . . . a good story with good characters in a good setting. I would recommend this to anyone who enjoys fantasy with a touch of history. I would save this for older teens due to some language.
Purchase Links
Amazon US
Amazon UK
[Top]
This week Kim reviews the How to Hang a Witch series by Adriana Mather. With Halloween this month, this was the perfect time for these books to be read and reviewed. This looks to be a series that I would enjoy!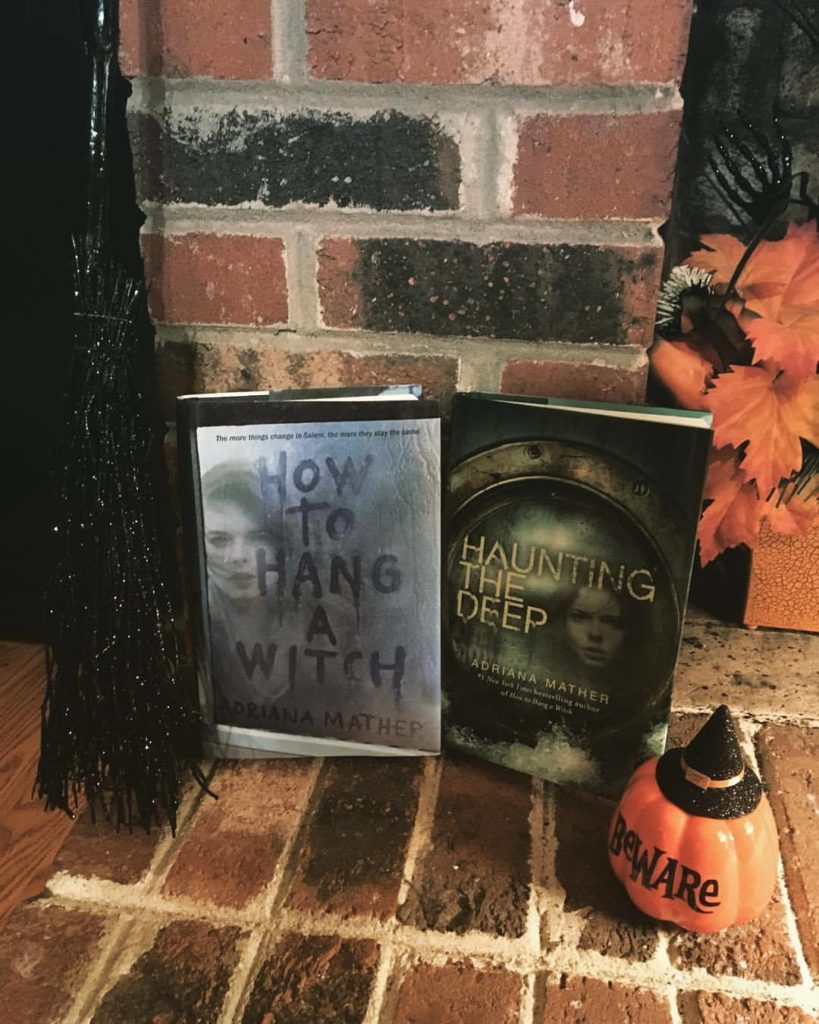 Author: Adriana Mather
Books in the Series:
How to Hang a Witch
Haunting the Deep
Reviewed By: Kim
Kim's rating of the series: 4 Stars
Description from Amazon:
How to Hang a Witch: Salem, Massachusetts, is the site of the infamous witch trials and the new home of Samantha Mather. Recently transplanted from New York City, Sam and her stepmother are not exactly welcomed with open arms. Sam is the descendant of Cotton Mather, one of the men responsible for those trials—and almost immediately, she becomes the enemy of a group of girls who call themselves the Descendants. And guess who their ancestors were? If dealing with that weren't enough, Sam also comes face to face with a real, live (well, technically dead) ghost. A handsome, angry ghost who wants Sam to stop touching his stuff. But soon Sam discovers she is at the center of a centuries-old curse affecting anyone with ties to the trials. Sam must come to terms with the ghost and find a way to work with the Descendants to stop a deadly cycle that has been going on since the first accused witch was hanged. If any town should have learned its lesson, it's Salem. But history may be about to repeat itself.
Haunting the Deep: Samantha Mather knew her family's connection to the infamous Salem Witch Trials might pose obstacles to an active social life. But having survived one curse, she never thought she'd find herself at the center of a new one. This time, Sam is having recurring dreams about the Titanic . . . where she's been walking the deck with first-class passengers, like her aunt and uncle. Meanwhile, in Sam's waking life, strange missives from the Titanic have been finding their way to her, along with haunting visions of people who went down with the ship. Ultimately, Sam and the Descendants, along with some help from heartthrob Elijah, must unravel who is behind the spell that is drawing her ever further into the dream ship . . . and closer to sharing the same grim fate as its ghostly passengers.
Kim's Review:
I really liked this series! I saw the book trailer for How to Hang a Witch and thought it was going to be a movie! Yeah stupid me still falls for book and fan made trailers! But, I still thought the story sounded really cool so I bought the book! I loved it! There's so much history weaved through all the fiction in such a fascinating way! And strangely enough, the high school drama didn't bother me. Mather managed to make everything bigger than just a retelling of Mean Girls. The stakes were life and death so the problems have intention behind them. The mystery and magic were compelling and even when I read it for the second time, it held me till the very end!
My main issue with this book is Elijah. And I love Elijah, that's what makes me so sad!! I've said it before that I dislike love triangles . . . very much hate them! And of course, in walks Samantha Mather and 2 guys automatically go after her!
*****Ok, SPOILER ALERT! He is dead!!! It can't work!! Why not go for the nice, happy, alive dude??? Thankfully, the relationship is explained a little more in Haunting the Deep, but c'mon!!!! End of Spoiler***** Alright, I'm done. Aside from the triangle, I actually really loved this book.
Haunting the Deep is a very unique book, in a really good way! I've never read anything like it. Sure, there are books about the Titanic, but nothing about the spirits of the people who died being stuck there forever! And to make myself feel better, I'll say that I did get a blurp of awareness about who's behind it all. It was a little blurp, but it was there! Mather kept the mystery going and had me hooked and questioning the whole time. The reason I gave this book 4 stars is because of the hint of politics she slipped in. I don't want to hear about "white privilege" when 1. I don't believe in it, and 2. the entire dang cast is white!! Why the self-sabotage???? However, I did like the characters better in this book. I like it a whole lot better when everyone is on the same side and being friends. And Mrs. Meriwether is my hero. Can someone open a Sugar Spells Bakery in my town? Seriously, my new goal is to try to make all the things that Mrs. Meriwether made in these two books. I recommend this series to anyone who loves historical fiction. I also believe these books are safe for readers of all ages, barely any language at all.
Purchase Links:
How to Hang a Witch
Amazon US
Amazon UK
Haunting the Deep
Amazon US
Amazon UK
[Top]