The Bookworm Powder Springs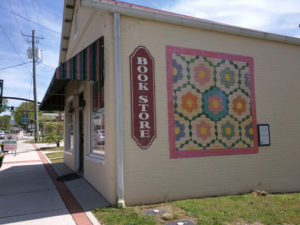 Featured today is The Bookworm in Powder Springs, Georgia.  They are a used bookstore located in the heart of the historic district of Powder Springs at 4451 Marietta Street. Their hours are from 10-6pm Monday – Saturday and they just recently opened their doors on Sunday from 12-5.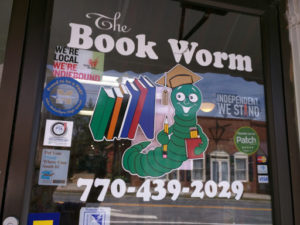 About The Bookworm
The Bookworm opened in October 2005 and has been owned almost the entire time by Susan Smelser. She is very welcoming and will talk with you as long as you want. Her employees are also very welcoming and eager to help you find all the books you want and even some you did not know you wanted!
Inventory
There is plenty to choose from at The Bookworm as they have 25,000-30,000 books plus even more inventory not in the store.  Besides books you can buy other items including bookmarks, pens, greeting cards, and DVDs and CDs.  If you look carefully, you may find some local artwork to purchase.
Their inventory is constantly changing as they accept trade-ins. They have a generous trade policy and you can use your credit on 50% of the purchase price for almost all books traded in from other customers. For more specifics on their policies look here.
You can search their inventory online and you can call them and they will pull your book and have it ready for you when you arrive to pick it up!  If there is a book you want that is not in the store, just ask and they have their special way of finding it for you.  The cost could vary depending how in demand or hard to find the book is.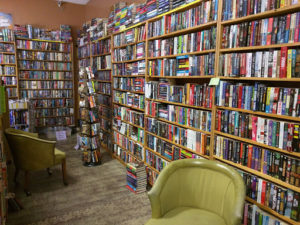 Have a seat, relax, and find a book to read!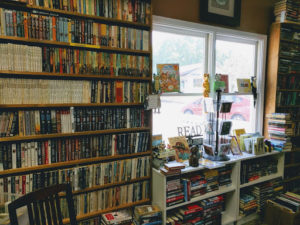 There is a huge selection of books to choose from at The Bookworm!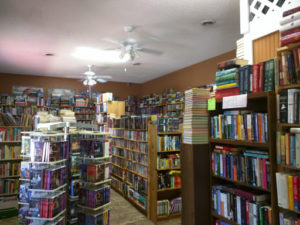 Sales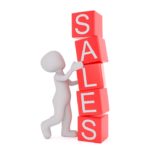 They have sales almost every day! The sales will be posted on Facebook, but be sure to mention the sale.  They almost always have "Twofer Tuesday" which is buy one get one free.  This is will be for specific sections of the store. I always find myself going on their Facebook page every Tuesday to see what the Twofer Tuesday is!  There are also monthly coupons available in the newsletter.
Sign up for the newsletter here.
Special Events
The Bookworm has special events. They have had author signings, a book club, and special events in conjunction with downtown Powder Springs. If you want them to host a special event just ask.  They have even had a cosplay event and a cooking class.
Book Club 
The Bookworm hosts a book club on the third Tuesday of every month. I have been to a couple of these meetings and have enjoyed them. There is a meetup page where you can sign up to attend a meeting and see what they are reading.
Future Plans
There are some exciting things coming to The Bookworm.  Soon you will be able to have a coffee, buy some books, and save a life:
There are plans for a coffee shop by the summer.  They will also be supporting a no kill cat rescue and will cats and kittens in the store looking for their 'furrever homes'. You can't get any better than cats and books!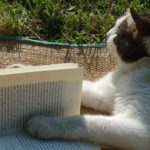 You can own The Bookworm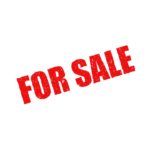 If you have the money and always wanted to own a bookstore you can buy The Bookworm.  Susan is also a health coach and feels a calling for that full time. That means selling The Bookworm and finding someone to continue her legacy. She is looking for  someone who would love to take The Bookworm over and not make too many changes as the customer base loves the store the way it is.
They have some really cool bookends at The Bookworm: