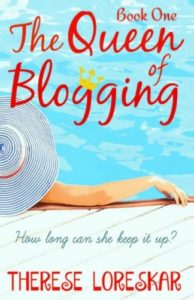 Author: Terese Loreskär
145 Pages in Kindle
Published: October 15, 2016
Dates Read: October 25-November 2, 2016
My Rating: 5 stars
Book Summary from Amazon:
The Queen of blogging is a fast paced, entertaining story about making ends meet when you have toddlers, a husband that works too much and showing off your life on a blog for the outside world to see.
Kajsa runs Sweden's largest Health and Fitness blog. There's only one small problem; it's all a big lie. Between her blog entries on healthy nutritious porridge and flashy running shoes, she lies on the sofa watching TV and eating sweets. Her only exercise is using the remote control.
Her life seems perfect: A beautiful house in an attractive suburb of Stockholm, three children, a loving husband and loads of money.However, things start to crumble when she accidentally writes on her blog that she is best friends with a famous Hollywood personal trainer. The problem is he's never met, let alone heard of her.
An ambitious journalist, who doesn't believe Kajsa has been honest about her blog or her friendship with the personal trainer, sets out to destroy her.Besides having to handle the annoying journalist, she must also deal with Peter, "the blog following hunk", and a bizarre and outrageous priest who keeps spreading Kajsa's secrets all over town!
Bestselling Swedish author Therese Loreskar writes with a never-ending sense of humor and energy.
The Queen of Blogging is for anyone who enjoys a comic read that also explores the downside of our generation's constant use of social media.
My Review:
Kajsa is the Swedish version of Bridget Jones! I can imagine if Bridget Jones was a blogger, then this would have been her. I enjoy the Bridget Jones books and movies, so this was a book for me!
Kajsa has the #1 fitness blog in Sweden, but it is all a lie. Blogging has overtaken her life and she constantly thinks about what her next "false post" will be. She says she eats these very healthy meals, but eats the opposite. She said she runs a 10k for her morning run, when she doesn't actually run at all. She goes into gyms and poses for pictures for posts. She also uses Photoshop to make pictures appear real. Things are starting to get out of control for her and then it actually does with one little lie on her blog: Saying she is friends with the #1 US Fitness Trainer. Things just take off from there. You will have to read the book to see what happens next.
Her perfect family is not perfect. She doesn't spend much time with her kids and her husband is up to something. Is he just preoccupied with his job, or is something else going on? Kajsa also has a stalker on her blog who really wants to meet her. Should she meet him or not? She actually debates this.
This book has many "Bridget-esque" type of adventures. The book's chapters are by days of the week and the day is chronicled like a blog.
If you enjoy chick-lit or enjoy Bridget Jones as I do, check this book out. It is only 99 cents for Kindle on Amazon. There is a sequel, but it probably needs to be translated to English. As this was translated to English, I did notice some spelling and grammar issues, but it did not take away from the book.
The Queen of Blogging is recommended!
I received a copy of The Queen of Blogging from TBC.