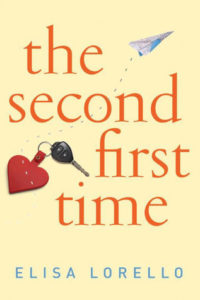 Author: Elisa Lorello
224 pages in Kindle
Published: November 15, 2016
Dates Read: December 5-11, 2016
My Rating: 3.5 Stars
Book Summary from Amazon:
Novelists Jonathan Moss and Sage Merriweather should be a perfect match. They share not only the same publisher but also a deep friendship full of mutual respect and encouragement. But when an ill-fated attempt at taking their relationship to the next level fails in spectacular fashion, it appears as though that once-treasured bond is doomed for good.
One year later, however, the duo gets a chance to salvage their relationship when Jonathan invites Sage on a do-over road trip from Phoenix to Tacoma—the same trip that ended before it began the year before.
Reeling from the sudden death of her estranged father, Sage finally agrees, and the two embark on a journey that will change their lives forever. As the pair moves ever closer to the truth about their feelings, both Jonathan and Sage have to decide what they really mean to each other…or risk losing it all.
My Review:
Jonathan and Sage are best friends who both happen to be authors and share the same publisher. After Jonathan's marriage falls apart, they decide to take a road trip to see what could possibly happen. This doesn't work out, the road trip does not happen and Sage ends up with a broken heart. They stop speaking and a year has gone by. This is where The Second First Time begins.
Sage's estranged father passes away and she needs someone to talk to and she decides to call Jonathan. It is almost like nothing has happened and they begin talking again and Jonathan suggests they actually go on that road trip they planned a year ago. Sage debates this but she does decide to go. This changes everything for Sage and Jonathan and they have to decide what they really want.
The Second First Time is a journey for Sage as she comes to terms with loss on several levels: Dealing with her father leaving her, her sister and mother when she was ten years old, then his death and the loss of the closure she can never get, and losing her best friend Jonathan the year before. We experience her thoughts and are torn with her as she tries to decide what she should do and how she feels about Jonathan. Should she take a chance on love again and possibly be hurt again? More importantly, what are Jonathan's feelings about Sage? Can they salvage the relationship they had and realize what could have been a year ago, or are the decisions that were made then permanent?
While on their road trip they learn more about each other. You can see Sage debating with herself and we can see how Jonathan feels about Sage. Sage just needs to see it herself. At times I found myself saying, "Hurry up and get together!".
The book is like a When Harry Met Sally story: Can a man and a woman just be friends or will romance eventually happen? The Second First Time was just okay for me, but it was well written. I did not find myself really attached to the characters. The first chapter does pull you into the story. I can't really recommend The Second First Time, but I would give Elisa Lorello another chance and read another of her books.
I received a copy of The Second First Time from NetGalley.