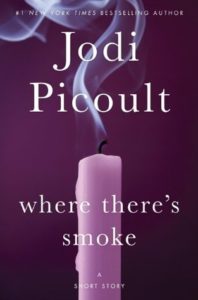 Author: Jodi Picoult
40 pages in Google Play Books
Published: May 19, 2014
Date Read: Febraury 26, 2017
My Rating: 4 Stars
Short Story Summary from Amazon:
Even as a child, Serenity Jones knew she possessed unusual psychic gifts. Now, decades later, she's an acclaimed medium and host of her own widely viewed TV show, where she delivers messages to the living from loved ones who have passed. Lately, though, her efforts to boost ratings and garner fame have compromised her clairvoyant instincts. When Serenity books a young war widow to appear as a guest, the episode quickly unravels, stirring up a troubling controversy. And as she tries to undo the damage—to both her reputation and her show—Serenity finds that pride comes at a high price.
My Review:
Where There's Smoke is the short story introduction to Serenity Jones, a psychic. I found the premise interesting and saw it was just .99 on the Google Play Store, which is free money for me since I participate in the Google Rewards surveys. I always get books with the money I earn from the surveys.
Serenity also has two spirit guides who are entertaining to say the least. And temperamental too! Serenity has a war widow on her show who is hoping to speak to her husband. Things go wrong and Serenity doesn't know what to do. Then she sees a politician on television whose child has gone missing, and she decides what to do next.
Serenity is also a character in the novel Leaving Time. I would be interested in reading that novel now, which is the point to a short story. Jodi did what she was intending in this case by writing this short story. This is the first I have read by Jodi Picoult although I have several of her novels. I own Mercy, My Sisters' Keeper, Plain Truth, and will very soon own Small Great Things. I now plan to buy Leaving Time.
Have you read any of these? Which should I read first? Are there any others of hers you recommend? I have heard Nineteen Minutes is one to read.