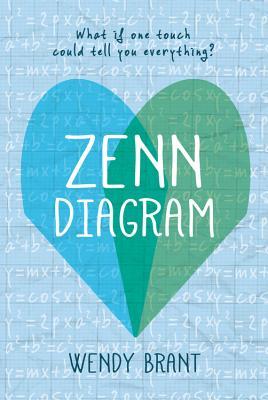 Author: Wendy Brant
315 pages in Paperback
Published: April 4, 2017
Dates Read: April 4-12, 2017
My Rating: 5 stars
Book Summary from Goodreads:
The more I touch someone, the more I can see and understand, and the more I think I can help. But that's my mistake. I can't help. You can't fix people like you can solve a math problem.
Math genius. Freak of nature. Loner.
Eva Walker has literally one friend—if you don't count her quadruplet three-year-old-siblings—and it's not even because she's a math nerd. No, Eva is a loner out of necessity, because everyone and everything around her is an emotional minefield. All she has to do is touch someone, or their shirt, or their cell phone, and she can read all their secrets, their insecurities, their fears.
Sure, Eva's "gift" comes in handy when she's tutoring math and she can learn where people are struggling just by touching their calculators. For the most part, though, it's safer to keep her hands to herself. Until she meets six-foot-three, cute-without-trying Zenn Bennett, who makes that nearly impossible.
Zenn's jacket gives Eva such a dark and violent vision that you'd think not touching him would be easy. But sometimes you have to take a risk…
My Review:
What more can I say than this?: I absolutely loved and adored Zenn Diagram!  In fact, it has made its way into my #1 read of 2017 so far this year! I have been reading a lot of thriller and suspense books lately, so it was a welcome change of pace when I started Zenn Diagram which is YA (Young Adult).
Eva is a loner in school by choice.  She has a unique 'gift' (or is it a curse?) She can touch someone or something and then gets these visions and fractals (a repeating pattern that becomes clearer over time.) She tutors fellow students in Math because through these visions she can see where students are having their difficulties  by simply touching their calculator.  She also learns issues and secrets that she may not want to know.  Needless to say she avoids touching others at all costs…. Until she meets Zenn, a boy in school that she begins to tutor.
Zenn Diagram is Wendy Brant's first novel and it is a brilliant debut!  I did not want to put it down.  The characters are fully developed and you can't help but adore both Eva and Zenn. Eva is smart and feisty, yet also lonely and frustrated.  You really see through her how it can be not being able to touch someone. Her 'aversion to touching'  has made her classmates believe she is a 'germaphobe', which puts her in that category of one the 'weird kids' in school.
Zenn is a hardworking guy and also very adorable.  At first Eva isn't sure what to think of him when she accidentally touches his jacket and gets an unpleasant fractal.  Over time the relationship grows and a romance progresses.  They are delightful together! It is a sweet romance that you can't help but eat up and want more of.  The issue of how can a romance occur if you can't touch the other person is brought up.  A conversation with Eva and some friends takes place involving consent in regard to physical contact, which seems to be becoming a more mainstream topic now. In that conversation there is a great analogy involving tea. Even though I don't drink tea, you won't think of it in the same way again. You want things to work out as Eva and Zenn are perfect for each other at this stage in their lives.
Zenn Diagram is more than just a sweet teenage romance.  There are things in both Eva and Zenn's lives that are far from perfect. There are things we don't know about both of them at first and then Wendy Brant goes and pulls a twist from out of nowhere that I would have never suspected!  It was exceptional!  From that reveal there is a change of direction with the novel.  When the novel was over I wanted more.
This is a brilliant first novel and I look forward to what Wendy Brant will bring us next!
**I received an e-arc through NetGalley and a physical arc from Kids Can Press and KCP Loft. Thank you so much for my copies!
**Note to Parents: Zenn Diagram is filled with 'teenagers being teenagers' and we see all the teen angst that occurs with teen relationships. In addition to the intimacy issues addressed there is language, but I feel neither is worse than what teenagers hear at school or see on television. There is no teen drinking or drug use in Zenn Diagram. There is language throughout the novel and yes the F-word is used. If you are worried about that then please read (and love) this book before giving to your kids. On my arc copy it recommends the book for ages 14-18, which I would agree with.